Bitcoin exceeds $3,000 and Ethereum breaks $400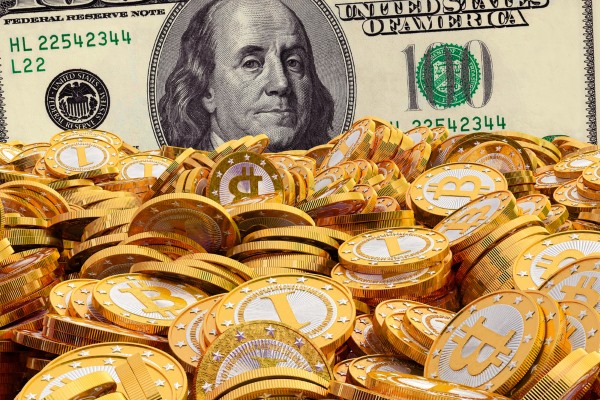 The price of Bitcoin this year has served as a constant reminder that I should take chances more often. When I wanted to invest a small amount -- but didn't -- it cost less than $30. On January 1, it was trading for over $1,000. On May 20, it broke the $2,000 mark for the first time.
And, today, the price of Bitcoin breaks another record, trading past $3,000 for the first time. It is a huge increase in less than half a year, and an astronomical increase compared to when I should have invested -- I wish I didn't know math for a second, because the price of Bitcoin today is 100 times higher. Ouch!
The price of Bitcoin hasn't evolved without some crazy fluctuations along the way though. For instance, in December 2013, Bitcoin broke the $1,000 mark for the first time, and a year later it was worth less than $450. That would have scared investors, but even if you bought Bitcoin for $30 and sold for $450 you would still have made a huge profit.
Robert X. Cringely wrote a very interesting article, called How to get rich trading Bitcoin, which shows that, basically, you really can't lose money investing in this cryptocurrency, as long as you don't buy when it peaks. Because it will drop in value sharply right after.
That happened today, as expected. From $3,000 it fell to just over $2,650, before rising again. The price varies, depending on the exchange, but at the time of writing this article you can see Bitcoin trading for around $2,750. It will rise and fall during the day, but I expect in the coming period to settle at a higher level.
What is very interesting about Bitcoin is that today's $3,000 mark was expected to be reached in 2017. However, because it happened so early in the year there is a chance that it could go even higher by the end of December. There are no guarantees here, so don't make any investments based on what people say, but it looks likely.
Bitcoin is not the only major cryptocurrency to break a new record today, as Ethereum reached an all time high as well, trading for over $400 just a few hours ago. Its evolution is even more interesting if you look at where it was a few months ago.
In early-January you could buy Ethereum for around $10. In mid-March, it was trading for around $20. And, since, the price has skyrocketed. Many people who have purchased Bitcoin when the price was right are now moving to Ethereum, because its price is rising faster than the price of Bitcoin. As a long-term investment, right now it makes more sense to bet on Ethereum.
I had a "Bitcoin moment" with Ethereum as well, last month. I wanted to invest when the price was around $80, but couldn't. There's a lesson to be learned here, and it's on the topic of exchanges.
Dealing with exchanges can be a massive pain due to verification. If you want to buy cryptocurrency without exchanging money through risky practices you have to use an exchange. There are many, but they all have one thing in common: verification.
The reason why I am mentioning this is that, if you want to invest today, take a look at all the exchanges that are available to you and start sending your documents to get your account verified. This can take weeks, due to the large volume of requests. Depending on where you live, you may not have access to all the major exchanges, although I would say that most let you trade cryptocurrency once you have it.
Photo credit: Lightboxx / Shutterstock