Minecraft is going cross-platform! For real! Kind of...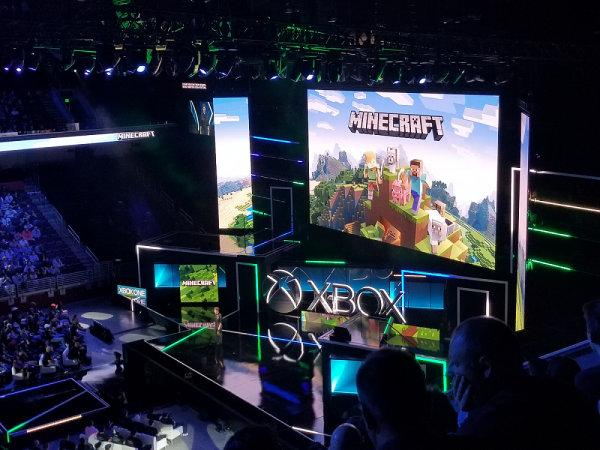 At its annual laser-laden, pyrotechnics-padded, 110-minute trailer fest, also known as the Xbox E3 2017 briefing, Microsoft showcased dozens of titles that will be coming to the Xbox One (and Xbox One S/Xbox One X) over the next several months. But developer Mojang also made some news during the event. It announced that its incredibly popular game Minecraft will be playable online across multiple devices and multiple platforms.
You may have heard terms like "cross-platform" in various descriptions and releases of Mincecraft titles, but until now that term has confusingly and incompletely been used for very specific platform integrations. For example, those playing the Windows 10 edition of the game can play alongside those who are playing on an iPad or Android tablet. However, Xbox One players -- for now -- can only interact with Xbox One players.
The same goes for those who own Minecraft on the PS4 and the Nintendo Switch. Those versions are walled off and won't connect with any other platform. It doesn't take a rocket scientist to realize how unfortunate and what a missed opportunity this has been over the past several years, as the entire global Minecraft community has become cordoned off from one another.
So Mojang's big news at E3 is that, via an update called "Better Together," it will be taking a wrecking ball to those barriers. That is, except for the aforementioned PS4 version. In order to get true cross-platform play to work, the developer needed to get the actual hardware manufacturers to work with it. Apparently, Sony has not shown that much interest in cooperating.
That means owners of the PS4 edition of Minecraft will still be cut off from the rest of the Minecraft world even after this update is released later in 2017.
From a business perspective, Sony may not like the concept of users buying in-game content on their Xbox One or Nintendo Switch and then playing with that content on a PS4 -- it will have received nothing from that monetary transaction.
For everyone else, though, it's a step in the direction that the Minecraft community has been desperately wanting for a long time. The new cross-platform version will be based on the existing mobile and Windows 10 editions, so those versions will simply receive a game update. For Xbox One and Nintendo Switch, an entirely new Minecraft game will be released. Those who already own those console-specific versions will be able to download the new game for free.
In other, Xbox-specific news (since this was revealed during the Xbox E3 presentation), Mojang will also be releasing a "Super Duper Graphics Pack" update for the Xbox One, specifically aimed at the graphics-supercharged Xbox One X console that is coming out in November.