Facebook uses India as a testing ground for profile picture protection features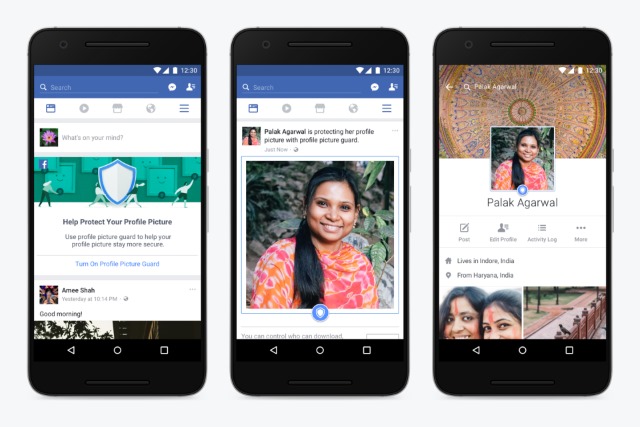 It's a common belief that anything that appears online is fair game for downloading and sharing, and this idea extends to Facebook profile pictures. Facebook has found that in India in particular there is great concern from users -- particularly woman -- about uploading a profile picture in case it is download and shared elsewhere.
Responding to this, the social network is trialling features that will grant users more control over their profile pictures. Facebook is not only introducing a new profile picture guard, but also encouraging people to add a design layer to their images to discourage misuse by others. If the trial proves successful, the feature will enjoy a wider rollout.
Facebook says that it has worked with a number of Indian safety organizations when coming up with its guidelines and tools. The company is keen for users to make use of profile pictures because they: "are an important part of building community on Facebook because they help people find friends and create meaningful connections."
The biggest change for people in India is the introduction of an optional profile picture guard. Enabling this feature has the following effect:
Other people will no longer be able to download, share or send your profile picture in a message on Facebook
People you're not friends with on Facebook won't be able to tag anyone, including themselves, in your profile picture
Where possible, we'll prevent others from taking a screenshot of your profile picture on Facebook, which is currently available only on Android devices
We'll display a blue border and shield around your profile picture as a visual cue of protection
Writing on the Facebook Safety blog, Aarati Soman says:
Based on preliminary tests, we've learned that when someone adds an extra design layer to their profile picture, other people are at least 75 percent less likely to copy that picture.

We partnered with Jessica Singh, an illustrator who took inspiration from traditional Indian textile designs such as bandhani and kantha, to create designs for people to add to their profile picture.

If someone suspects that a picture marked with one of these designs is being misused, they can report it to Facebook and we will use the design to help determine whether it should be removed from our community.