First limited-edition PS4 Pro console to debut September 6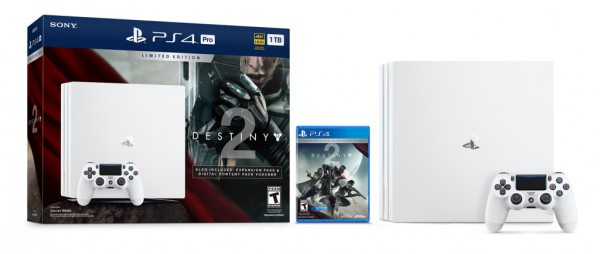 Sony announced today that it will be launching the first special edition version of the PlayStation 4 Pro in September, to coincide with the release of the anticipated action game sequel Destiny 2.
Announced on the official PlayStation Blog, the new version of the PS4 Pro comes in a "Glacier White" color instead of Sony's traditional black motif. The bundle also comes with a Glacier White PS4 controller, a physical copy of the game, and a "digital content pack."
That pack includes an additional multiplayer map, a new ship, and a three-person co-op Strike. Sony says this content will be available as a timed exclusive for bundle owners before it is made available to everyone else. It also says an "exclusive exotic weapon" will be included in the digital content pack that is only available to those who purchase the special bundle.
If a special white version of the PS4 being combined with a Destiny title sounds familiar, it's because Sony had a very similar bundle in 2015 to go with the release of the first game.
The difference with this bundle is that it's a PS4 Pro -- the enhanced version of the console that packs in stronger processor and graphics rendering capabilities, along with an additional USB port and factory-standard 1TB hard drive. This is the first time a special edition of the PS4 Pro hardware has been produced.
It will be available on September 6 at a retail price of $449.99.