Google Maps tells you the best time to start your journey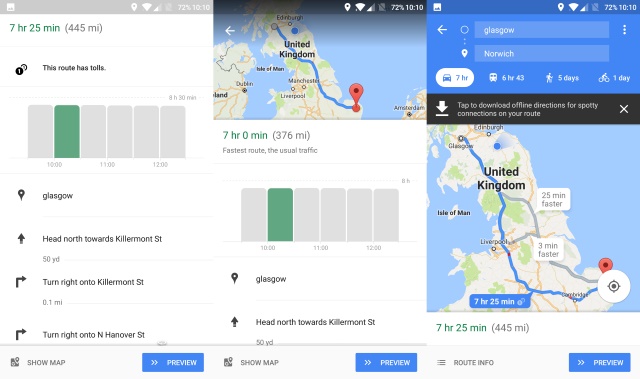 Time your departure time wrong, and even the simplest of journeys can end up taking far longer than it was meant to. Hit traffic, and your journey time could be doubled -- or worse. A new feature of Google Maps aims to eliminate this problem.
The nameless feature is rolling out to the Google Maps mobile app, and it lets you know how long your trip will take if you leave now, or in a few hours' time. It's a simple addition -- and one that would benefit from a little more work and refinement -- but it's a valuable one for travelers.
Google has pushed out the feature with no fanfare, and there's no indication in the app that it exists. When you've tapped in your start point and destination and hit the Directions button, before you choose to start your journey, tap Route Info instead.
A graph will appear, indicating how long the trip will take if you set off now or at different points throughout the day. It's not clear whether Google is using real-time information in calculating these estimated journey times, or just historic information from other Google Maps users. Either way, it could help you to avoid a nasty traffic jam if you're traveling on unfamiliar roads.
It's not perfect, however. The graph only looks forward two hours, so it's not possible to plan an afternoon journey in the morning, for example, or to see if it makes more sense to delay a trip until the next day. Maybe in a future update...