Google brings algorithm-powered feed to its iOS and Android apps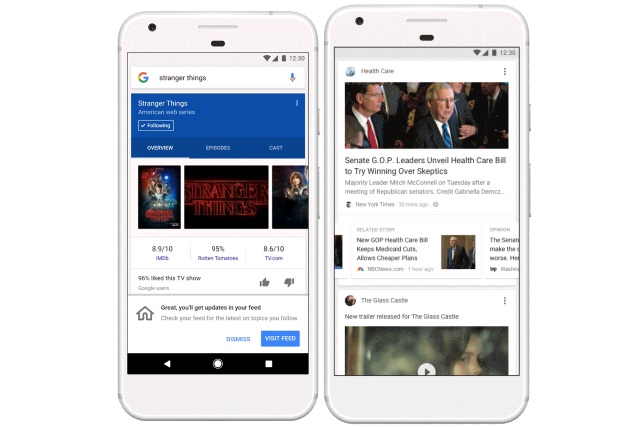 Google has announced a significant update to its iOS and Android apps, introducing a new algorithm-driven feed that pushes personalized content at users. The company says that the update makes "it easier than ever to discover, explore and stay connected to what matters to you -- even when you don't have a query in mind."
The feature, known simply as "the feed", has been around since December, but this is an important update that sees Google further leaning on the algorithms it has come to love. The feed draws on machine learning to create a personalized stream of content made up not only of news, but also videos, music and other content Google thinks may be of interest.
Google is using a number of factors to choose what content to display, and it's not just based on search history. Just as Facebook has started to do with its newsfeed, Google's feed is partly determined by which content is proving popular locally. Should particularly interesting content be surfaced, the app gives the option of following along so you can see more about "movies, sports teams, your favorite bands or music artists, famous people, and more."
Writing about the feed in a blog post, Shashi Thakur, vice president of engineering at Google, says:
You'll see cards with things like sports highlights, top news, engaging videos, new music, stories to read and more. And now, your feed will not only be based on your interactions with Google, but also factor in what's trending in your area and around the world. The more you use Google, the better your feed will be.

As the world and your interests change, your feed will continue to grow and evolve along with you. You'll notice that your feed will also reflect your interest level for various topics -- for example, if you're a photography enthusiast but just casually interested in fitness, your feed will show that. But if you see something that isn't up your alley, unfollowing topics is easy too. Just tap on a given card in your feed or visit your Google app settings.
Continuing Google's drive to weed out "fake news" and the like, content is fact-checked where possible, and the feed will display viewpoints from a variety of sources in the name of balance. Whether this goes against the idea of tailored content remains to be seen.
The updated version of the Google app for iOS and Android is available in the US from today, and internationally over the next couple of weeks.