Facebook launches Watch, a new platform for original shows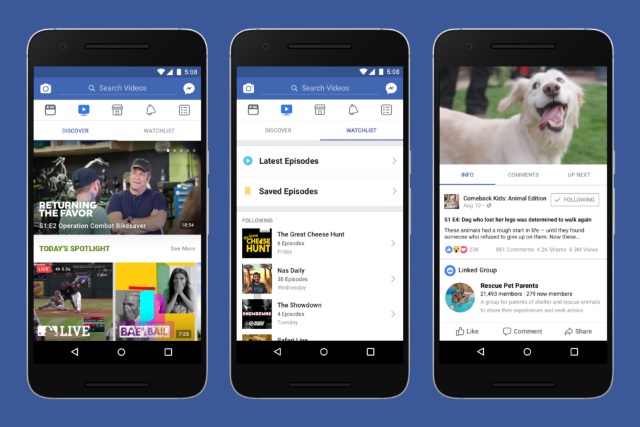 Facebook has launched its new Watch platform which will be used to show original video content. The social networking giant says that the time has come for a dedicated home for episodes of shows, and Watch will feature both live and recorded video.
Facebook will be working with a number of partners to come up with content for Watch, and advertising revenue will be shared 55:45, with Facebook keeping the smaller share. Of course, the video output has a social element to it, with Facebook encouraging viewers to make use of Reactions, and also highlighting shows that are being watched by people you are connected to on the social network.
At launch, there are hundreds of shows, but Facebook wants to increase this to thousands before long. There are few rules for Watch video but they must have a "consistent theme" -- whether that is a recurring cast, a regular cookery show or a daily vlog. In many ways, Watch is Facebook's attempt to take on YouTube, describing it as "a platform for all creators and publishers to find an audience, build a community of passionate fans, and earn money for their work."
Facebook says:
We're introducing Watch, a new platform for shows on Facebook. Watch will be available on mobile, on desktop and laptop, and in our TV apps. Shows are made up of episodes -- live or recorded -- and follow a theme or storyline. To help you keep up with the shows you follow, Watch has a Watchlist so you never miss out on the latest episodes.
Like so much of Facebook, Watch is all about being tailored to individuals, and this is something the social network is playing up:
Watch is personalized to help you discover new shows, organized around what your friends and communities are watching. For example, you'll find sections like "Most Talked About," which highlights shows that spark conversation, "What's Making People Laugh," which includes shows where many people have used the "Haha" reaction, and "What Friends Are Watching," which helps you connect with friends about shows they too are following.

We've learned from Facebook Live that people's comments and reactions to a video are often as much a part of the experience as the video itself. So when you watch a show, you can see comments and connect with friends and other viewers while watching, or participate in a dedicated Facebook Group for the show.
Starting today, Watch will be available to a small number of users in the US, but it will spread to a wider audience "soon."
Anyone interested in producing shows for Watch can find out more on Facebook's Media blog, and register their interest use the Show Pages inquiry form.