Could Kim Dotcom's Bitcache and K.im be the solution to piracy?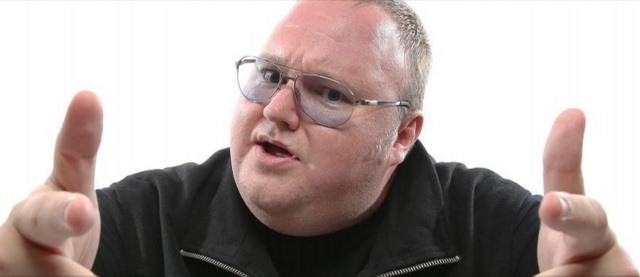 The man made famous by Megaupload, Kim Dotcom, thinks he may have come up with a solution to piracy. The solution pairs his new file-sharing site, K.im, with his micro-payment service Bitcache.
Working in a slightly different way to Megaupload, K.im is a decentralized cloud-based hosting system. Users can upload files and they will be distributed between various cloud services and also Bittorent. Coupled with Bitcache, a Bitcoin-based payment system, creators can charge for access to their content.
Kim Dotcom is still fighting extradition to the US, but this did not stop him from giving a demonstration of his new system in action. While Megaupload was very much a free-for-all service that became synonymous with pirated content, K.im and Bitcache work together to counter piracy. Content uploaded to K.im is encrypted, and it cannot be unlocked until an associated Bitcache payment has been processed.
K.im is currently running as a closed demo, but it allows for access to content that has been paid for using either a dedicated K.im app, or a browser add-on. Kim Dotcom spoke with TorrentFreak about his latest business venture:
I'm working for both sides. For the copyright holders and also for the people who what to pay for content but have been geo-blocked and then are forced to download for free.
When it comes to dealing with pirated content -- such as episodes of Game of Thrones -- it is possible for broadcasters, studios and other copyright holders to take ownership of pirated content. While the upload remains anonymous, the copyright holder is free to adjust the price of files, or remove them. Dotcom is not shy in describing the brilliance of his solution:
It is the holy grail of copyright enforcement. It is my gift to Hollywood, the movie studios, and everyone else. [...] Rightsholders can turn piracy traffic into revenue and users can access the content on any platform. Since every file is a store, it doesn't matter where it ends up.
The BBC points out further possible uses for the service:
The service, which will eventually include a web browser extension and a mobile app, would also let media organizations, YouTube vloggers and bloggers accept micro-payments from viewers.

So for example, when reading an online newspaper, watching videos on YouTube or reading a recipe, users could press a button on the page and pay a few cents for each piece of content they consume, using their Bitcache wallet.
Only time will tell whether K.im and Bitcache can deliver the "copyright revolution" promised by Kim Dotcom, but with a launch date of late 2018, we'll have to wait a while to find out.
Photo credit: Kim Dotcom