Want to download Huawei EMUI images? Tough... they've vanished!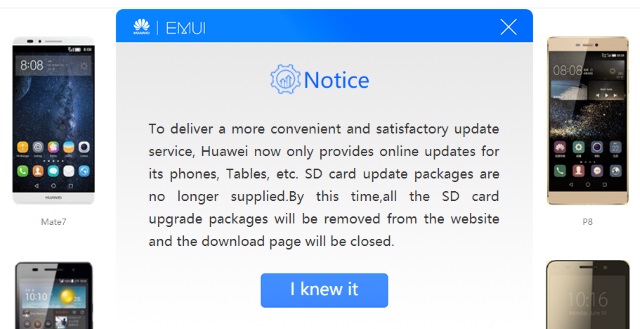 Out of the blue, and without a proper explanation, Huawei has pulled EMUI images from its websites. Anyone looking for a ROM for their smartphone is now out of luck.
Although the Chinese company makes reference to wanting to give users a "more convenient and satisfactory update service," it's not really clear what this means in practice. The images could appear on a new dedicated site, but for the moment Huawei is remaining tight-lipped about what's going on.
If you visit the download site, you're greeted by a message informing you of the lack of downloads. You can close this message, but if you click through to any of the 39 phones listed on the page, you will find that download links have indeed been removed.
A notice on the Huawei website reads (spelling mistake and weird punctuation courtesy of Huawei):
To deliver a more convenient and satisfactory update service, Huawei now only provides online updates for its phones, Tables, etc. SD card update packages are no longer supplied. By this time,all the SD card upgrade packages will be removed from the website and the download page will be closed.
If you are in need of a ROM for your Huawei phone or tablet, you're either going to have to wait until the company gets its act together, or see if you can download it from other sources.