Mountain Duck 2.0 adds support for client-side encryption of cloud storage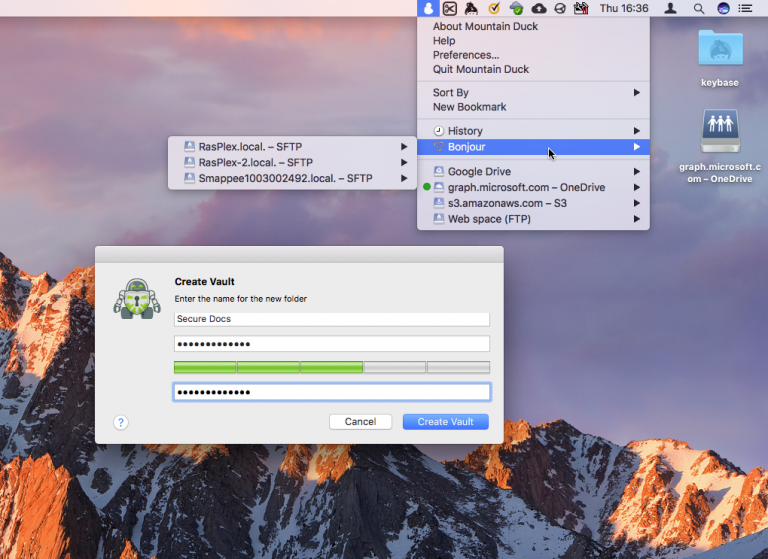 Bern software developer iterate GmbH has released Mountain Duck 2.0 for Windows and Mac. Mountain Duck is designed to make it easy for users to mount server and cloud storage through File Explorer and Finder.
Version 2.0 adds several new features, most notably support for transparent client-side encryption of data using Cryptomator. It also adds support for Microsoft OneDrive accounts.
Mountain Duck 2.0 opens by promising "foolproof" client-side encryption for cloud storage, allowing users to add another layer of encryption to their cloud-hosted data using Cryptomator, which provides AES encryption and scrypt-powered protection against brute force attacks.
Supported services include Dropbox, Google Drive, OneDrive, Microsoft Azure and Amazon S3, along with OpenStack Swift, WebDAV and FTP hosting. Users can even use the service to browse and encrypt folders stored locally.
The feature is made simple by users simply right-clicking a folder and choosing 'New Encrypted Vault' before providing a passphrase (Mac users must first enable the Mountain Duck extensions via System Preferences > Extension > Finder).
Also new in version 2.0 is an Info panel, which is also accessed through the context menu. From here users gain service-specific features such as changing permissions for files on FTP or SFTP, ACLs on Amazon S3, Microsoft Azure and Backblaze B2, and changing metadata on selected services.
Windows users also gain the ability to register Mountain Duck as the protocol handler for sftp://, ftp://, ftps://, dav://, davs:// and s3:// schemes.
Mountain Duck 2.0 is available as a free trial download for PC (Windows Vista or later) or Mac (OS X 10.8.3 or later). The full version costs $39 for one user, with upgrades from previous versions starting from 40 percent and rising to 100 percent depending on date of purchase.