Google ad hints at Pixel 2 and Pixel XL 2 event on October 4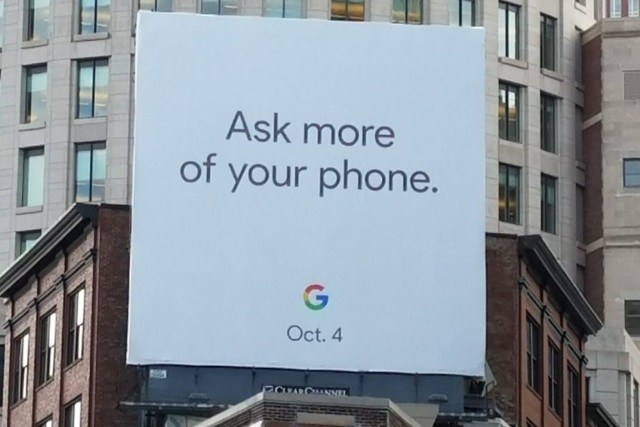 Google is expected to take the wraps off the Pixel 2 next month along with -- probably -- the Pixel 2 XL. Last year's Pixel event took place on October 4, and the appearance of a billboard in Boston suggests that the same date will be used this year.
The Google billboard says simply: "Ask more of your phone" and then the date, Oct. 4. The sighting of the billboard comes just as the LG-manufactured Pixel 2 XL passes through FCC.
It is a few weeks since an FCC filing for the HTC-manufactured Pixel 2 was spotted, and the last filing seems to confirm the upcoming, larger Pixel 2 XL. As noted by Android Police, the new FCC listing mentions neither Google nor Pixel, but it does include the model number G011C, which had already been revealed when it was announced that device would be made by LG.
While we know that the Pixel 2 features a Snapdragon 835 processor and a squeezable "Active Edge" frame, very little is known about the device's big brother. LG's filing is devoid of any useful information other than confirming the model number and manufacturer.
Only three weeks to wait!
Image credit: Droid Life