Google launches personalized phishing protection and updated Security Checkup tool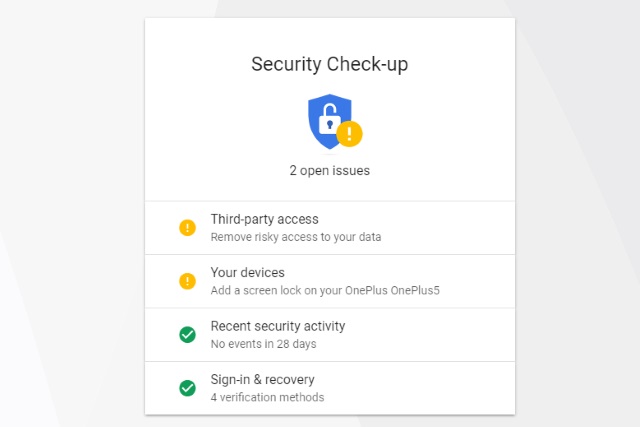 We're in the middle of Cybersecurity Awareness Month and Google is taking part. The company has launched two updated protection tools to help keep internet users safe online.
While Google refers to "two new protections," these are really updates rather than completely new offerings. Both the Security Checkup tool and Google Safe Browsing have been updated to make them more personal, and both of them will adapt over time to protect against new threats.
See also:
The revamped Security Checkup guides you through the process of securing your Google account and everything associated with it -- including settings to do with your mobile. If you pay a visit to the Security Checkup page you'll see an overview of Google's assessment of third-party access to your data, settings on your mobile devices, and more. Google will then provide you with advice if it thinks you should take any action to improve your security, and the company says:
The new Security Checkup will keep evolving as new threats arise -- you can count on it to provide you with relevant, up-to-date security advice that you can use to keep your account safe.
The second security tool is an update to the established Google Safe Browsing. The phishing protection offered by this tool has been updated so that it is now predictive, thereby offering greater security.
Google explains:
Safe Browsing has always scanned the web for these dangerous sites. But, if a phishing site is created and used for attack moments later, even the quickest scanners can't warn people fast enough. From our years of experience detecting phishing sites, Safe Browsing's insights can now enable us to make predictions about risks in real time.

We're using this knowledge to test new predictive phishing protections in Chrome. Soon, when you type your Google account password into a suspected phishing site, we'll add additional protections to ensure your account isn't compromised. Those protections will apply even if you use a different browser afterwards.

We plan to expand predictive phishing protection to all other passwords you've saved in Chrome's password manager, and enable other apps and browsers that use Safe Browsing technology, like Safari, Firefox and Snapchat, to use it as well.