WinZip 22 includes image conversion, EXIF stripping and much more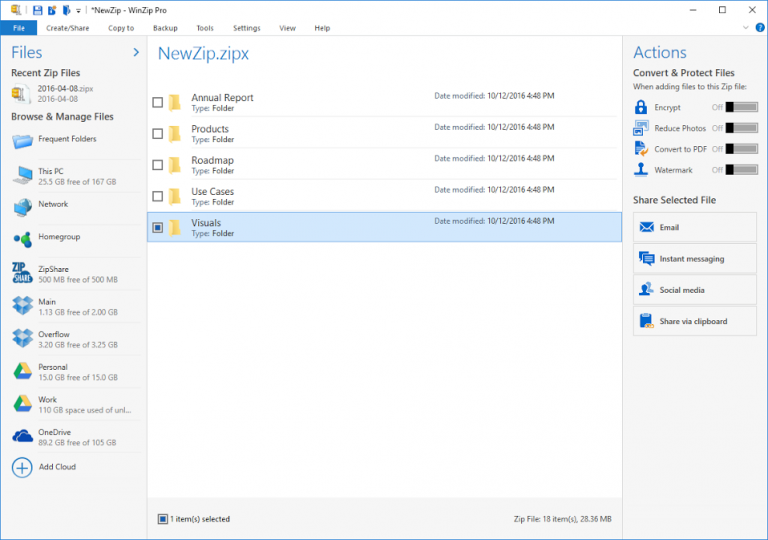 WinZip International LLC has released WinZip 22, a major release of what is perhaps the world's best-known archiving tool. Version 22 builds on changes introduced in version 21, primarily with speed and safety improvements.
WinZip 22 ships in three editions -- Standard, Pro and Enterprise (aimed at corporate users). The majority of the new features are available in Standard and Pro. The primary difference between Pro and Standard are the backup features.
What's new in 22? WinZip claims the new version is much faster, with a startup time cutting 50 percent from the previous version. You can also move files more easily, automate how zip files are handled on your computer (without opening WinZip to handle them) and quickly unzip directly to the Files Pane from Windows Explorer.
Photographers will be pleased with some of the image-handling tools within the latest version. You can quickly convert between image file formats, such as JPG to PNG. Better still, you can strip information from the EXIF files before they are archived for distribution.
Other highlights include the ability to delete password-protected archives, without requiring the password, and for the Enterprise edition, if a previous employee has password-protected an archive, WinZip now enables you to override the password and open the contents if the employee has moved on from the company.
WinZip Mac Edition 6 was also recently released. Some of the highlights include support for handling archives from the Files Pane, support for additional file types (.gz, .tgz, .tar) and enhanced Zipx compression.
WinZip 22 is available now, starting at $29.95 for the Standard edition, with the Pro version at $49.94. WinZip Mac Edition 6 is $29.95.