Mozilla Firefox 57 unveils new speedy Quantum browsing engine, revamps user interface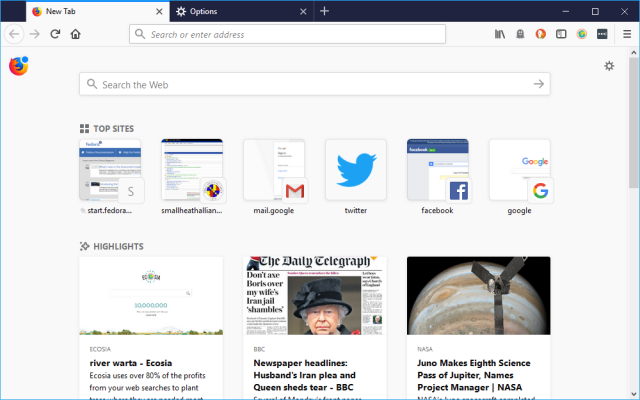 Mozilla has placed Firefox 57.0 on its servers for download, ahead of its official release tomorrow. Also due imminently is Firefox for Android 57.0. The new release sees the debut of Mozilla's next-generation browsing engine, Quantum.
The new engine is paired with a major user-interface revamp boasting a more modern, pared-down look, plus feature highlights include improved Address Bar and redesigned new tab page. In addition there are major changes (with potentially significant consequences) to the browser's extension support.
The new browsing engine -- codenamed Electrolysis during its development, but redubbed Project Quantum -- has been built from the ground up to tap into all the latest processor technologies to deliver significantly faster performance.
Quantum promises up to twice the performance of Firefox 52, after which a number of its enhancements started to slowly roll out. These included multi-process support (Firefox 54) and hardware acceleration (Firefox 55). Firefox 57 adds in support for AMD VP9 hardware video decoding during playback to reduce power consumption.
There are also major visual changes, with a completely redesigned user interface (the "Photon Design System") designed to provide a more modern, sleek feel that's consistent across multiple platforms.
Its screen real-estate has also been reduced to give more space to web content, and the Address Bar has been updated to integrate navigation and search, included suggested history and search terms, plus one-click search.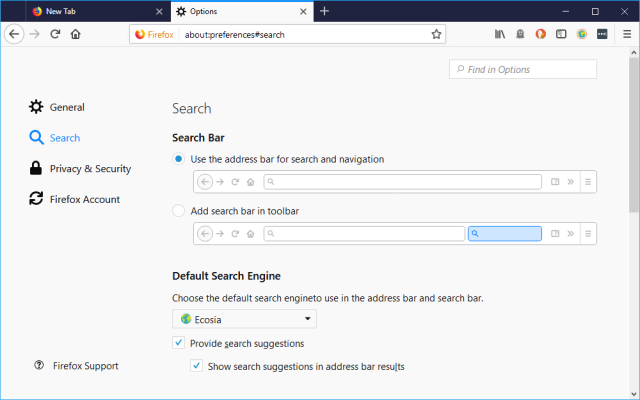 The existing Search bar remains selected by default for existing users -- open Options, select the Search section and choose 'Use the address bar for search and navigation' to switch to the new unified bar.
On visiting Options, users will see it's been redesigned to match the new slicker user interface. There's also an expanded Privacy & Security section giving users full control over website permissions.
The new tab page has been redesigned to include both recently visited as well as top visited sites. US, Canadian and German users gain Pocket recommendations. There's also a new product tour to orient both new and returning users.
Extension changes
One major update will affect many user add-ons. Firefox 57 switches off support for legacy extensions, so going forward will only work with those built using the standard WebExtension API.
Visit about:addons and select 'Legacy Extensions' to see what's no longer supported -- if applicable users can search for replacements and remove the non-functioning extensions here. Also, visit the extension provider to see if a beta extension -- as is the case with LastPass, for example -- is available as a stop-gap.
A full list of changes and some unresolved issues -- audio playback may be disabled when running Firefox for Windows over a Remote Desktop Connection (RDP) for example -- can be found at this Firefox change log.
Firefox 57.0 is available now as a free, open-source download for supported versions of Windows, Mac and Linux. Also due for release is Firefox for Android 57.0. Again, this uses the Quantum next-generation engine, updated user interface and revamped new tab page, plus drops support for legacy extensions.
Firefox for Android's other changes include shutting down video decoding when tabs playing media are sent to the background (audio is unaffected). There's also an option to enable tracking protection outside of private browsing mode and support for scrollable long URLs in the URL bar.