Garmin launches vívofit 4 activity tracker with insane 1+ year battery life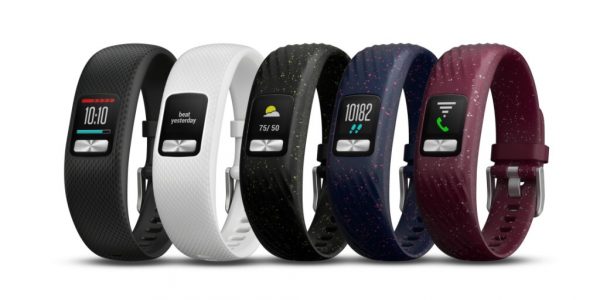 Wearables haven't exactly lit the world on fire. Quite frankly, devices such as Apple Watch and Android Wear watches have been disapointments for some. Yeah, Apple's offering has seen respectable sales — for the "watch" category at least — but it's hardly on the same level as the iPhone or iPad from a disruption standpoint. Not to mention, having to charge it daily is a definite pain-point.
Where wearables seem to shine, however, is for fitness. Fitness-focused devices have more of a purpose — they aren't just glorified wrist-worn alert annoyances like Apple Watch. Today, Garmin unveils it's latest fitness wearable and it looks quite nice. Called "vívofit 4," it has an always-on color display and get this — the battery lasts more than a year. Wait, what?!
"Right out of the box, the vívofit 4 starts tracking steps and encourages users to stay active with a colored move bar that fills up when a user has been stationary for too long. It also assigns daily step goals based on current activity levels which automatically adjust to the user, gradually nudging them toward a healthier, more active lifestyle," says Garmin.
ALSO READ: I am slave to Apple Watch no more
The company further says, "For those customers looking for more than just basic activity tracking, the vívofit 4 can be paired with a smartphone, adding even more functionality and options, such as tracking sleep, intensity minutes and more. Forget to start or stop a timed activity? Thanks to Move IQ, the vívofit 4 is able to detect changes in a user's movement and automatically capture and classify activities such as walking, running, biking, swimming and using an elliptical. Users can use the vívofit 4 as their everyday watch, complete with a countdown timer, stopwatch and multiple alarms. A weather widget gives a quick, illustrated look at the day's weather. The vívofit 4 even includes Find My Phone for those who need a little extra help keeping track of their smartphone."
Despite all of its useful features and jaw-dropping battery life, the vívofit 4 only costs a surprisingly low $79.99. You can choose between white, speckled lime green, and black colors. All come in small and medium, although only the black is available in large. For the fashion conscious fitness folks, you can buy additional band colors, including a special combo pack for $29.99 that comes with "Speckled Merlot" and "Speckled Navy."
If you want to score your own vívofit 4, it can be had starting today at Amazon. If you buy one, please tell me which color you chose in the comments below.