Microsoft acquires storage vendor Avere Systems to boost its hybrid cloud offerings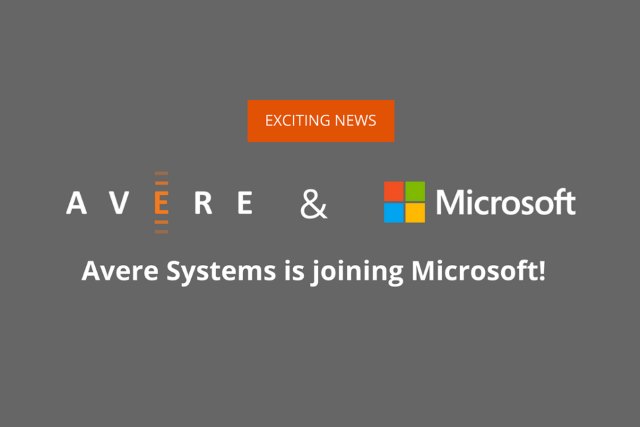 Microsoft has bought file systems company Avere Systems for an undisclosed sum. The acquisition is part of Microsoft's continuing shift to the cloud, and sees the company improving its enterprise products.
Avere's technology will be integrated into Microsoft Azure, continuing the company's provision of "high-performance NFS and SMB file-based storage for Linux and Windows clients running in cloud, hybrid and on-premises environments."
In a blog post, Avere president and CEO Ronald Bianchini Jnr says: "I am excited to announce that Avere Systems will be joining Microsoft to continue our mission to enable the most demanding Enterprise workloads to run in the datacenter, in the cloud and in hybrid cloud environments. Avere's customers include many of the world's top brands in media and entertainment, life sciences, technology and finance."
He goes on to say:
Over the years, Microsoft has made significant investments to provide its customers with the most flexible, secure and scalable storage solutions in the marketplace and has made Azure the natural home for enterprise applications. This shared focus on large Enterprise applications makes Microsoft a great fit for Avere.
Microsoft goes into a little detail in a separate post, with Jason Zander, corporate vice president of Microsoft Azure, explaining:
Avere uses an innovative combination of file system and caching technologies to support the performance requirements for customers who run large-scale compute workloads. In the media and entertainment industry, Avere has worked with global brands including Sony Pictures Imageworks, animation studio Illumination Mac Guff and Moving Picture Company (MPC) to decrease production time and lower costs in a world where innovation and time to market is more critical than ever.

By bringing together Avere's storage expertise with the power of Microsoft's cloud, customers will benefit from industry-leading innovations that enable the largest, most complex high-performance workloads to run in Microsoft Azure. We are excited to welcome Avere to Microsoft, and look forward to the impact their technology and the team will have on Azure and the customer experience.