Kingston unveils 'Canvas' SD and microSD cards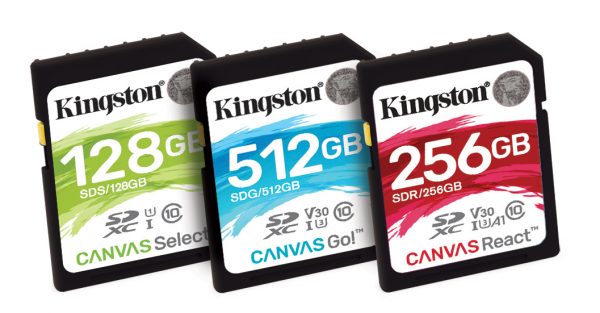 One of the most important purchases a photographer can make is their memory card. Whether you are a professional or amateur photo-taker, you undoubtedly want to protect your images. This is why it is important to focus on reputable brands -- it isn't worth saving money by going with a lesser-known brand if your files get corrupted, right?
One company that has a great reputation is Kingston. It has long sold quality flash products. Today, the popular company unveils its new "Canvas" line of memory cards. They are available as both micro SD and SD, plus in various speeds and capacities. In other words, Kingston is aiming to meet the needs of many. There are three distinct Canvaas variants from which to choose -- Select, Go, and React.
"With the Canvas line of memory cards, users and creators can choose the best storage medium available. The cards are designed to provide the reliability, flexibility and performance needed for any project. Along with tested durability, users will have the confidence to bring Canvas cards wherever their imagination takes them," says Kingston.
ALSO READ: HyperX launches Cloud Revolver gaming headset in beautiful Gunmetal color
Annette Chan, Flash card business manager, Kingston further says, "We are always determined to create new and improved storage solutions that meet our customers' needs. Canvas Flash cards are durable, high in storage capacities and have fast transfer speeds to capture all of life's memories anywhere."
Kingston shares the details for all three Canvas models below.
Canvas Select

Designed to be reliable, making it ideal for filming in HD and shooting hi-res photos on either point and shoot cameras or smartphones.
Class 10 UHS-I speeds up to 80MB/s read.
SD in capacities up to 128GB and microSD up to 256GB available now.
Canvas Go

For on-the-go shooters making it ideal for filming life's adventures in 1080P or even 4K on DSLR, drone or action camera.
Class 10 UHS-I U3 speeds up to 90MB/s read, 45MB/s write.
SD in capacities up to 512GB and microSD up to 128GB.
Canvas React

Designed to be as fast as you are, capturing 4K video or taking stunning burst-mode photos on DSLR, mirrorless camera, or smartphone.
Class 10 UHS-I U3 speeds up to 100MB/s read, 80MB/s write.
SD in capacities up to 256GB and microSD up to 128GB.
As you can see above, the Select is the more basic of the trio, and its price shows that. Capacity starts at 16GB and pricing starts at $9.55. The tougher decision will be between Go and React. While the former offers capacity up to 512GB, the latter is significantly faster -- especially with write speed. Go pricing begins at $19.85 for 32GB, while React starts at $23.40 for 32GB.



In addition to full-size SD cards, there are microSD options too. The Select micro starts at $7.25 for 16GB. The Go begins at $26.55 for 32GB, while the React starts at $27.85 for 32GB.