Warning for RSS fans -- Digg Reader is closing in under two weeks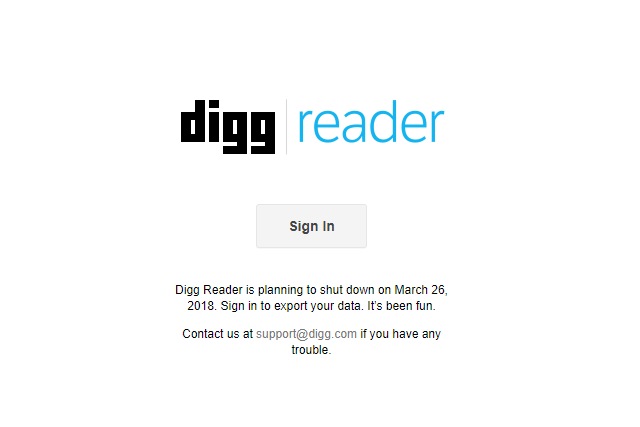 For some people RSS is already a dead technology, and over the last few years numerous RSS readers -- including Google Reader -- shut up shop. But for others, accessing newsfeeds is an essential way to keep up to date with what's going on.
Following the closure of Google Reader, RSS fans flocked to the likes of Feedly, The Old Reader, Digg Reader and Inoreader. Now Digg Reader has announced that it is to close, and users are being advised to export their feeds so they can be imported into an alternative service.
Users do not have a great deal of time to grab their data and take it elsewhere. The RSS reader is due to close on March 26, meaning there's less than two weeks to go. No reason has been given for the closure, but presumably the venture either didn't prove as popular as expected, or it was rather more costly to run than anticipated.
A note on the Digg Reader sign in page says:
Digg Reader is planning to shut down on March 26, 2018. Sign in to export your data. It's been fun.
There is also a post on the support pages entitled "Goodbye to Digg Reader". It says:
Digg Reader is shutting down on March 26, 2018. Bummer, we know. We'd like to thank you for using Digg Reader for the past four years, and we'd also like you to have your feeds and keep reading them where you want. Thankfully, this is pretty easy.

If you haven't already exported your Feeds in an OPML xml file, just go to digg.com/settings and Scroll down to Export and Download your subscriptions. Select where you want to save and you'll be able to Import it to another reader service. This is your data, and we want to make sure you have it.
So if you were a Digg Reader user, where can you turn? The support article suggests the likes of Feedly, Feedbin, Panda, FeedWrangler, Reeder, Leaf and NewsBlur. Personally, however, I would recommend Inoreader.