The HP Chromebook x2 with detachable screen is ready to take on the iPad Pro and Surface Pro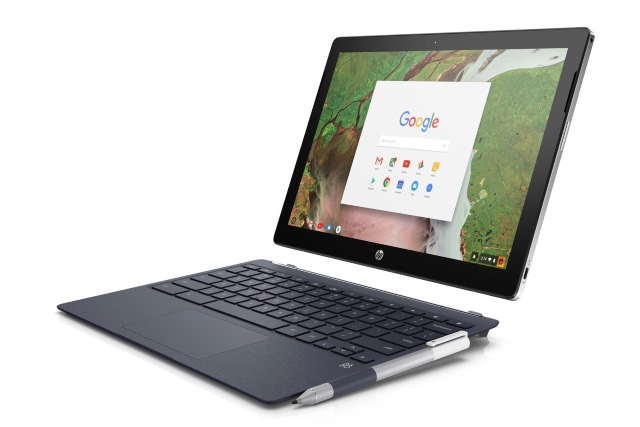 There's a new Chromebook on the block -- or there will be soon -- and this HP offering is determined to stand out from the crowd... and give both the Surface Pro and iPad Pro a run for their money.
Running Chrome OS, the HP Chromebook x2 supports Android apps, features a stylus, and -- importantly -- has a detachable screen so it can be used as a tablet or a laptop. The 12.3-inch device comes in at a shade under $600, and the hardware specs are impressive... for the price, at least.
In tablet mode, the Chromebook x2 is just 8.2mm thin and weighs 1.62 pounds; factor in the keyboard and this changes to 15.3mm and 3.14 pounds. Powered by a Kaby Lake Core m3 processor (specifically an Intel 7th-gen Core m3-7Y30), the device is available with 4 or 8GB of RAM (LPDDR3-1600), and features a 5 megapixel front camera, a 13 megapixel rear camera, two USB-C ports, a Micro SD card slot and a headphone jack as standard. HP claims up to 10.5 hours of battery life.
There's 32GB of built in storage, and this can be expanded by up to 256GB with a memory card. The screen is a Quad HD unit with a resolution of 2400 x 1600, and features Corning Gorilla Glass 4. It is driven by Intel HD Graphics 615.
The HP Chromebook x2 starts at $599.99 and will be available at Best Buy on June 10. You will also be able to buy it from the company directly at HP.com, by clicking the following link: https://store.hp.com.