Inside Samsung d'light, a three-storied futuristic exhibition space in Seoul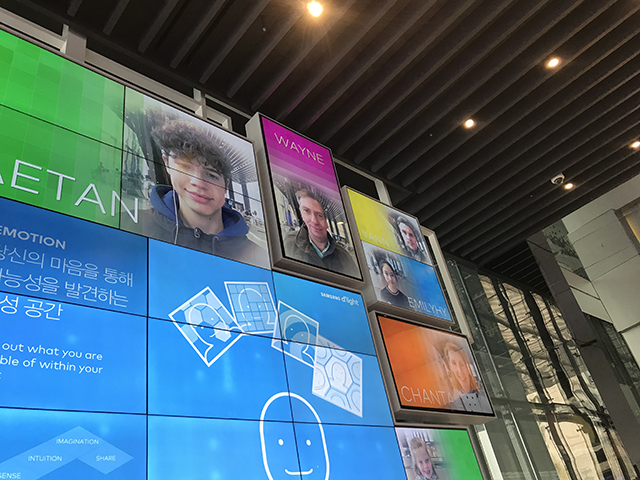 I recently spent an amazing fortnight in South Korea. For a tech enthusiast such as myself, it was a no brainer that at some point I would visit Samsung d'light, a three storied exhibition space in the lower portion of one of the company's massive buildings in Seocho-Gu, Seoul.
Here you can try out different products, including VR, and see what Samsung is working on. It's a glimpse of the future.
When you first enter Samsung d'light (the name is a combination of digital and light) you're given a smart wrist band which you have to register. This is used across various experiences on the ground floor. You enter your name, and a photo is recorded and appears on the screens on the back wall, along with photos of other visitors. After then you're free to explore.
The first interactive space you encounter is Emotion and this aims to let you "journey into your own unique emotions", although in reality it just involves tapping your band on a point in a station, picking up a tethered phone and doing a spot of air painting. There is a choice of brush types on offer and you pick the one that most appeals. When you've finished painting, the results are applied to your photo which then appears on the wall in that space. You'll also be given a word to describe your emotion. The first time I tried it, I got "Unique". The second time was "Intellectual" and the third (and final) time "Warmhearted".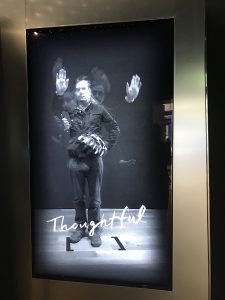 The next space is Sense where -- according to Samsung -- "you can find your hidden possibilities by moving your body". Tap your band and follow the movement instructions in the mirror display. Your movements are tracked and recorded. The result of some arm waving led to me being described as "Thoughtful".
Intuition lets you create a digital world by answering some questions, such as what shape land your planet has, and the type of village you want. My choices resulted in a "Calm" world.
Finally Imagination takes everything you've done so far ("Warmhearted" > "Thoughtful" > "Calm", in my case), and creates a future for you. I was an Idea Factory Manager, "creating new ideas 24 hours a day". I'm not sure if that's a good career move or not.
At the end of this, you can enter your email address into a kiosk and Samsung will email you the photos and images created during your journey.
Elsewhere on the ground floor is a VR experience that uses hydraulic chairs and Gear VR headsets to take you on a virtual roller coaster ride. It's fun, and quite short. You can also do a spot of driving a race car around a track on a QLED Gaming Monitor, and try out Samsung's latest products like phones, tablets and fridges.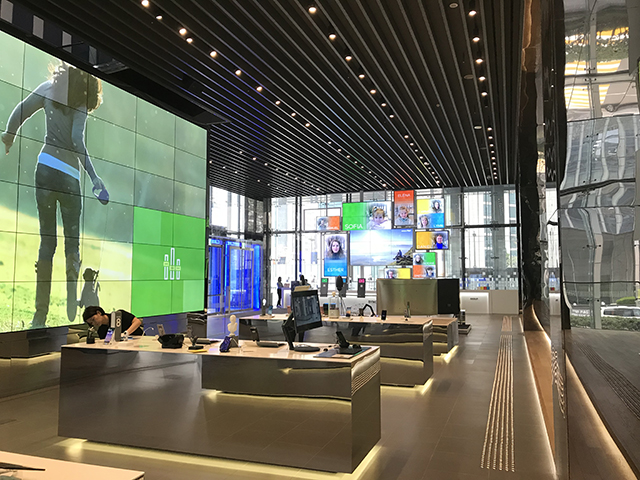 The floor above offers a journey into tomorrow with Samsung products and provides interactive displays which show how smartphones, wearables and digital appliances can have an impact on your lifestyle. You can also explore rooms in a future house, see how learning can be more fun in a classroom (with tablets and a wall-mounted smartboard) and do a spot of future shopping.
There are also two rowing machines here which let you go head to head with someone and track your fitness.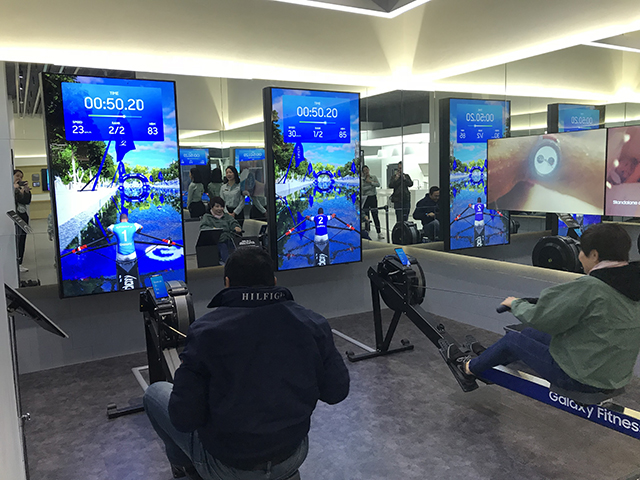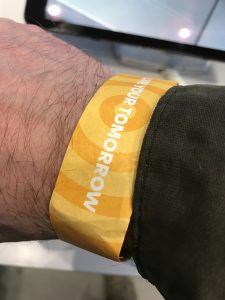 Down in the basement is the Samsung d'light shop where you can try out all of Samsung's various consumer products and accessories, and buy anything that catches your attention. Before you get your wallet out however, it's worth noting that despite Samsung being a South Korean company, you won't save money by buying its products there. A South Korean man I met said he usually buys his devices from Amazon.com as even with overseas shipping it's often cheaper.
Samsung d'light is free to enter and explore, and if you ever find yourself in Seoul it's definitely worth an hour or two of your time. You can find out more on the official site.