StarTech releases UVCHDCAP HDMI to USB-C Video Capture Device for Windows, Mac, and Linux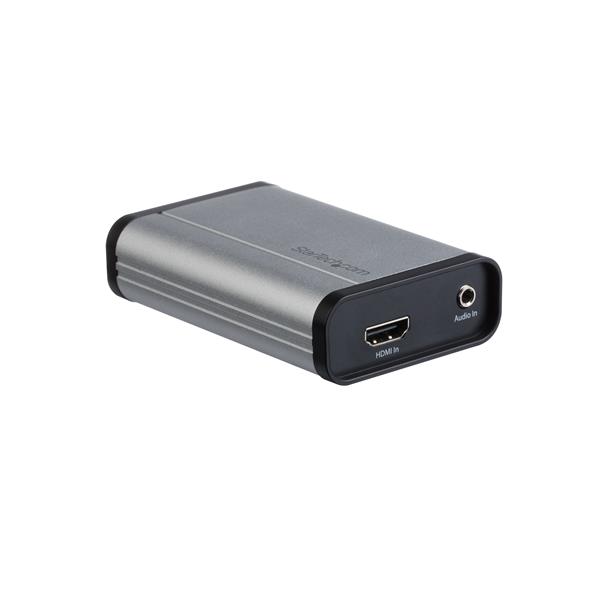 While all desktops (and most laptops) have video outputs, having a video input is much more rare. The reason why is simple -- most people don't need such a thing. Quite frankly, outside of some business use, home users never really had much of a need. With the invent of video gameplay streaming on platforms like Twitch, however, this changed. Now, more and more home users want video capture devices to connect a game console to their PC.
Today, StarTech releases its latest such product for both business and personal users alike. Called "UVCHDCAP," it is an HDMI to USB-C Video Capture Device for Mac, Windows, and Linux -- no drivers needed. It uses USB 3.0 Type-B for connectivity, and there is a Type-B to Type-C cable in the box. Your computer doesn't have a USB-C port? No worries, a Type-B to Type-A cable is included as well.
"The device can be used to record meetings, presentations or conference calls to be uploaded or shared for future reference, with ease. Its compact size, lightweight and rugged design also make it ideal for education or healthcare professionals who require mobility and video capture in various locations. Video enthusiasts can use this device to record or live stream your 1080p content to any online video platform from a laptop or game console. It is also compatible with USB-A, USB-C or Thunderbolt 3 computers," says StarTech.
ALSO READ: StarTech launches bus-powered Thunderbolt 3 docking stations
The company further says, "The HDMI to USB-C Video Capture device features USB Video Class (UVC) technology, which is a video capture standard that is natively supported by Mac, Windows, and Linux. The use of UVC in this device provides users with the ability to work with their computer's native video capture driver, removing the limitations of included software. Whether individuals prefer to use DirectShow applications on Windows or QuickTime on Mac, no additional drivers need to be installed for the device."

StarTech shares the following features and benefits.
HDMI video recording to your USB-C, USB-A, or Thunderbolt 3 computer
USB Video Class (UVC) technology supported by Mac, Windows and Linux
Easy installation for a plug-and-play solution
1080p video resolution at 60fps (frames per second)
Supported resolutions include 1920 x 1080, 1280 x 720, 1024 x 768, 800 x 600
Includes USB-C to USB-B, and USB-A to USB-B cables
Backed by a

StarTech

.com 2-year warranty and free lifetime technical support.
The UVCHDCAP HDMI to USB-C Video Capture Device can be had now on Amazon for [amazon_link asins='B07D698K5D' template='PriceLink' store='betanews02-20' marketplace='US' link_id='d38505ae-83a6-11e8-b677-37668ca84e7d']. Besides the two aforementioned USB cables, an HDMI cable is also included in the box.