Dashlane 6 adds an identity dashboard to help users understand their online security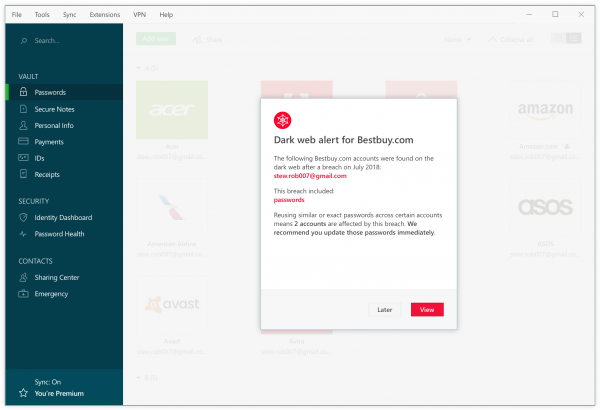 Password manager app Dashlane is launching the latest version of its software complete with a new Identity Dashboard, which provides a complete picture of a user's online security and clear actionable steps to improve it.
The dashboard integrates dynamic new features like dark web monitoring, as well as a new Password Health assessment, that put people in complete control of their digital identities.
"Managing digital identity has become too complex for almost everyone," says Emmanuel Schalit, CEO of Dashlane. "Massive breaches and data abuses -- like the ones at Facebook, Equifax, and Exactis -- affect us all, and while protecting accounts with unique and complex passwords is a critical step, it is no longer enough. People must be able to easily manage and monitor all aspects of their digital footprint. That's why we created Dashlane 6 -- to solve that very problem."
Features of Dashlane 6 include a Password Health section that provides customers with a comprehensive, real-time analysis of how secure their passwords really are. It helps them understand which accounts need the most attention and includes tools to easily strengthen passwords.
It permits secure sharing too, so customers can give their friends, family, and co-workers the ability to use their account credentials without ever revealing their passwords to them. Premium customers can secure their internet connection wherever they are using Dashlane's VPN, which encrypts online activity on unsecure connections to keep personal information safe and private. Customers can operate the VPN on an unlimited number of devices with unlimited data use.
Premium customers also get dark web monitoring which can watch up to five email accounts and receive detailed security alerts if any personal information is found on the dark web. The service scans more than 32 billion records attached to hacks and data breaches.
Dashlane 6 has two plan options, free, for secure password management on a single device; and Premium, for unlimited password storage across every device plus a suite of digital security features such as Dark Web Monitoring and VPN. A free trial of Dashlane Premium, as well as plan and pricing details, is available on Dashlane.com.