YouTube slaps Alex Jones with another strike and removes Infowars founder's videos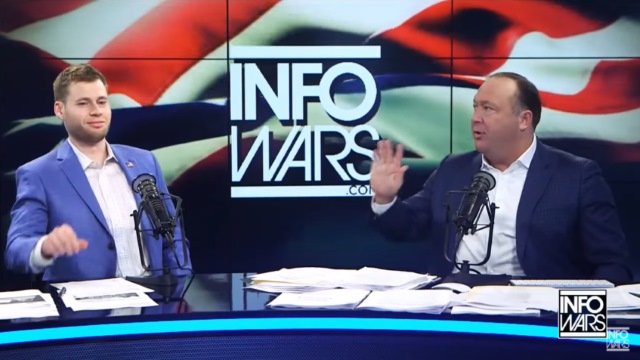 YouTube has taken action against Infowars' Alex Jones, hitting him with a strike and removing four of the right-wing conspiracy theorist's videos from its platform.
The videos -- two about Muslims, one about transgender people and one about "preventing liberalism" -- were removed for violating YouTube policies about hate speech and child endangerment. Infowars has hit back by saying that YouTube is violating its own policies in taking down the videos.
YouTube has a three strikes policy which can see channels closed down completely, but this is something that Alex Jones has managed to escape this time. Although YouTube found that four videos violated its policies, they have been treated as a single incident and therefore only incur a single strike. The channel incurred a strike back in February, but this expired after three months. Had Alex Jones posted the four offending videos that earned him the most recent strike over a longer period of time, it is possible that each could have incurred a strike and resulted in the deletion of the channel.
Some were not impressed with the timing:
What a crock of shit.@TeamYouTube waited until the last two strikes had expired, then bundled together four violations into one strike!

The contortions these people are doing to avoid 86ing Alex Jones, who regularly flaunts their rules to their face, are just unbelievable. https://t.co/7iXSYfKprU

— Sleeping Giants (@slpng_giants) July 25, 2018
Unsurprisingly, Infowars is having a field day with the news of the strike and has hosted the deleted videos on BitChute.com so "you can watch the videos here and make up your own mind -- instead of letting YouTube to do it for you".
Alex Jones posted much the same message on Twitter:
YouTube has removed four Infowars videos that were critical of liberalism, but you can watch the videos here and make up your own mind – instead of letting YouTube to do it for you - https://t.co/1PtLd2kzVW

— Alex Jones (@RealAlexJones) July 25, 2018
A post on the Infowars site says:
YouTube claimed all four videos had violated its "policy on violent or graphic content", a claim of which violates YouTube's own policy which states that graphic content is allowed "in a news, documentary, scientific or artistic context" so long as it is not gratuitous.
The videos ("How To Prevent Liberalism -- A Public Service Announcement", "SHOCK REPORT: Learn How Islam Has Already Conquered Europe", "Shocking 'Drag Tots' Cartoon Sparks Outrage" and "VIDEO: French President Macron Pretends Crime Rates And Migrants Are Not Co-Related") in question showed footage of a man pushing a child to the ground, complaints about immigration, and denouncements of the creators of a drag cartoon.
In a statement given to Reuters, an anonymous YouTube spokesperson said:
We have longstanding policies against child endangerment and hate speech. We apply our policies consistently according to the content in the videos, regardless of the speaker or the channel.