Paint.NET 4.1.1 restores shortcut keys, builds on major 4.1 update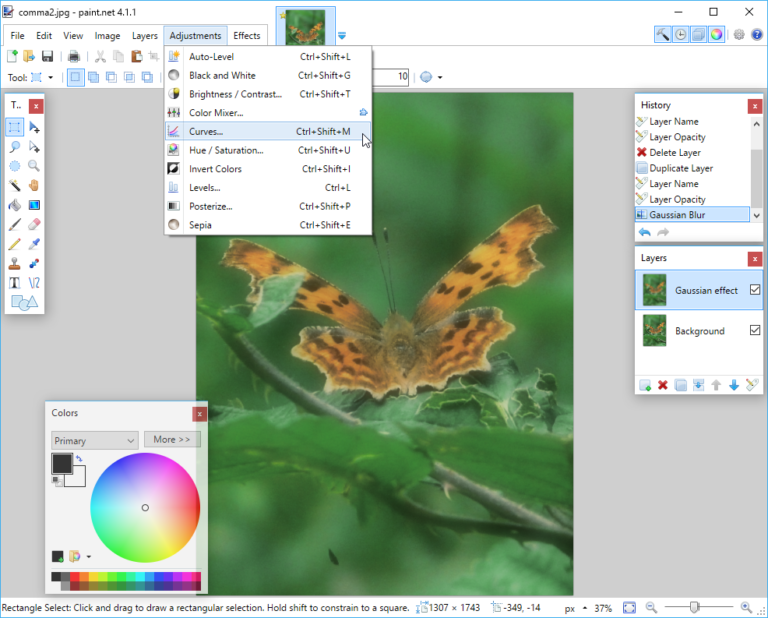 dotPDN LLC has unveiled Paint.NET 4.1.1, a minor update that follows less than a week after the major Paint.NET 4.1 release. This includes two notable bug fixes, reinstates Adjustment menu shortcut keys and one minor improvement.
The update was preceded by Paint.NET 4.1, which added support for GPU-powered effects, copy/paste for selections and bicubic resampling for the Move Selected Pixels tool.
Paint.NET 4.1's headline new feature was the rewriting of various effects to use Direct2D's image processing system, which meant they were powered using the GPU rather than the CPU.
The rewrite has seen significant improvements across supported effects, including Gaussian Blur, Motion Blur and -- where the GPU is powerful enough -- Radial Blur. Also updated were Edge Detect, Pixelate, Relief and the Black & White and Invert Colors adjustments.
Two new effects -- Morphology and Turbulence -- were also added, and other effects will be transferred across to the new system in subsequent updates.
Other notable improvements included incremental + and – buttons for tweaking tolerance and hardness effects with supported tools. The mouse wheel can also now be used to scroll through long menus.
One unwelcome change -- to free up shortcut keys for other functions -- was to remove the shortcuts for all built-in Adjustments except Invert Colors. This change has been reversed in Paint.NET 4.1.1 and the shortcuts have been reinstated.
Paint.NET 4.1.1 also fixes two bugs: the first where the color wheel control was unable to pick up the correct value for the alpha slider, and another that fixed a rare crash with the new Shapes tool, caused by a resources file not having been updated (typically while pending a reboot).
The update also adds Norwegian and Ukrainian translations, plus extends the IndirectUI angle chooser control's support to the UpDownIncrement property.
Users should receive a notification of the update when launching the program, or they can go to Settings > Updates > Check Now for a manual notification.
Paint 4.1.1 is available now as a freeware download for PCs running Windows 7 or later. Windows 7 SP1 users need to have installed the Platform Update from 2013, while the .NET Framework 4.7.2 is also a requirement, and will be automatically installed alongside the program if required.