Microsoft is launching the Surface Hub 2S in 2019, and the Surface Hub 2X in 2020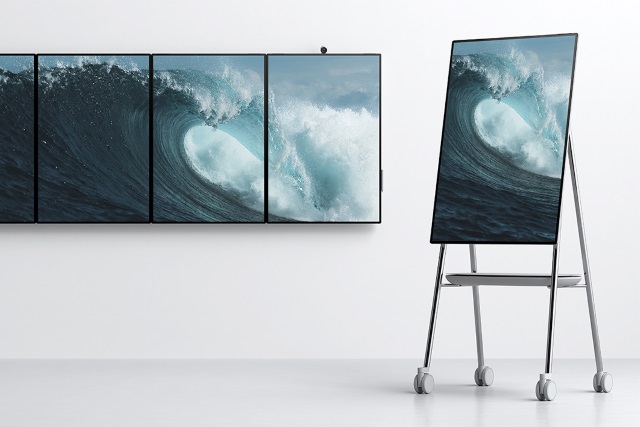 Microsoft has announced that it is launching the Surface Hub 2S in the second quarter of 2019. The next version of the company's gigantic, business-focused touchscreen display is (slightly) smaller at a mere 50.5 inches, rather than the existing 55- and 84-inch options.
Following on from this in 2020 is the Surface Hub 2X which brings not only multiuser login, but also the ability to rotate and tilt the screen. Interestingly, an upgrade will be possible from the 2S to the 2X by means of a removable processor cartridge.
Writing on the Windows blog, general manager of hardware engineering Robin Seiler says: "People loved the original Surface Hub because it brought people together to work and create, but they also asked us for a more beautiful screen, something easier to install and transport, and more seamless integration of software and apps. We've taken that feedback to heart and used it to work across Microsoft to transform the creation process for Surface Hub 2 and our two new offerings in the Surface Hub family -- Surface Hub 2S and Surface Hub 2X. Today we're pumped to share more about these incredible collaboration devices".
He goes on to explain that the upcoming Surface Hub 2S has been redesigned:
Surface Hub 2S was built for customers who have told us they still want the original Surface Hub experience that they know and have built for, but in a lighter, thinner, more vibrant design. With Surface Hub 2S customers will be able to deploy either an on-premise or hybrid environment and keep the software experiences that they have standardized on with the original Surface Hub. Businesses can also now continue to use Skype for Business on their Surface Hub 2S or deploy the latest version of Microsoft Teams.
There is no word on pricing, and the release date has not been pinned down any more precisely that Q2 next year. The promise of hardware upgrade options is likely to be enticing to many businesses; anyone investing in a Surface Hub 2S will be able to transform it into a Surface Hub 2X further down the line:
Looking forward to 2020, we will release updates to the Surface Hub family to enable customers to update to Surface Hub 2X. This includes the ability to tile, rotate, and enable multi user log in. This simple update is enabled by our design of removable processor cartridges, in an easily accessible hardware chassis on the back of the Surface Hub 2. This processor cartridge can be removed, upgraded and serviced over time. The cartridge is what will enable customers to make the switch to the Microsoft 365 powered Surface Hub 2X in 2020.