What is the Presidential Alert text from the National Wireless Emergency Alert System?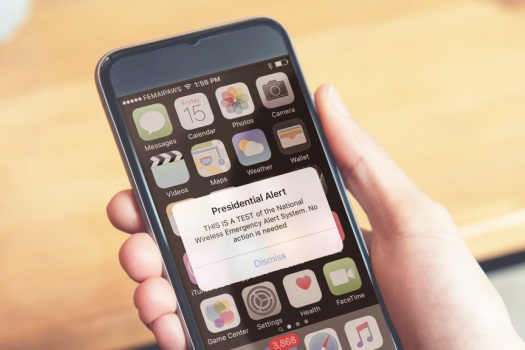 Today -- Wednesday October 3 -- your phone will receive a text message; assuming you're in the US, that is, and use Verizon, T-Mobile, AT&T or Sprint as your carrier. The text should arrive from 11:18AM PT / 2:18PM ET, and it will feature the dramatic heading of Presidential Alert.
You may be reading this because you wonder what on Earth is going on -- particularly if your phone has made a strange noise -- but there's nothing to worry about. Not this time, anyway.
The text message is part of a test of the Wireless Emergency Alerts (WEA) and Emergency Alert System (EAS). The first message should arrive at 11:18AM PT / 2:18PM ET as the WEA test is performed.
The message reads:
THIS IS A TEST of the National Wireless Emergency Alert System. No action is needed.
This is a test of the nationwide alert system to warn the public about dangerous weather, missing children and other critical situations, and you may notice that your phone makes a different notification sound to normal.
Two minutes later, the EAS test takes place -- this is the system used by the President to send out messages during national emergencies via radio, television and other platforms. The message reads:
THIS IS A TEST of the National Emergency Alert System. This system was developed by broadcast and cable operators in voluntary cooperation with the Federal Emergency Management Agency, the Federal Communications Commission, and local authorities to keep you informed in the event of an emergency. If this had been an actual emergency an official message would have followed the tone alert you heard at the start of this message. A similar wireless emergency alert test message has been sent to all cell phones nationwide. Some cell phones will receive the message; others will not. No action is required.
As the messages indicate, there is nothing to be concerned about. This is just a test, and it has been planned for some time. If you get an alert after Wednesday October 3, feel free to panic.
Find out more on the FEMA website.