Nintendo Switch: Fortnite -- Double Helix Bundle is here!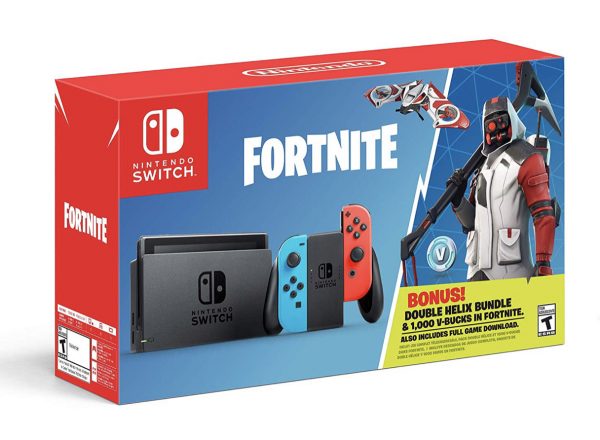 The Nintendo Switch is much less powerful than both the Xbox One and PlayStation 4. However, that being said, Nintendo's offering is arguably the best of the three. Why? Well, it serves double duty as both a home and portable console. Not to mention, it has Nintendo exclusive games, featuring iconic characters like Mario and Link from Zelda. Let's be honest, Nintendo's own games are top shelf.
Today, Nintendo announces a special Fortnite edition of the Switch. No, the hardware is not different. The "Fortnite -- Double Helix Bundle," as it is called, simply features some exclusive content and bonus in-game currency. For fans of the wildly popular Fortnite game, this is sure to be quite enticing.
"A new Nintendo Switch bundle is now available in stores, and it offers the best value for fans of Fortnite. It's the perfect way for newcomers (and super fans) to skydive into the world of Fortnite and play the console version of the global phenomenon anytime and anywhere," says Nintendo.
The console-maker further says, "Nintendo Switch is the only platform that allows you to take the full console experience of Fortnite anywhere you go. The system is great for playing Fortnite with friends at parties, while commuting or even when at home on the TV. And with rewards that are unique to this bundle, there's no better deal for the Fortnite and Nintendo fans in your life."
Nintendo shares the bundle add-ons below.
1x unique Double Helix Outfit
1x unique Telemetry Back Bling
1x unique Pinpoint Pickaxe
1x unique Rotor Glider
1,000 V-Bucks (in-game Fortnite currency)
So, how much does the bundle cost? It is very reasonable at $299. After all, that is the price of the normal Switch. In other words, for the same price as the non-bundle console, you are scoring $45 worth of Fortnite bonuses. How cool is that?
Want your own Nintendo Switch: Fortnite -- Double Helix Bundle? You can score one on Amazon here now.