Google reveals the Pixel 3 and Pixel 3 XL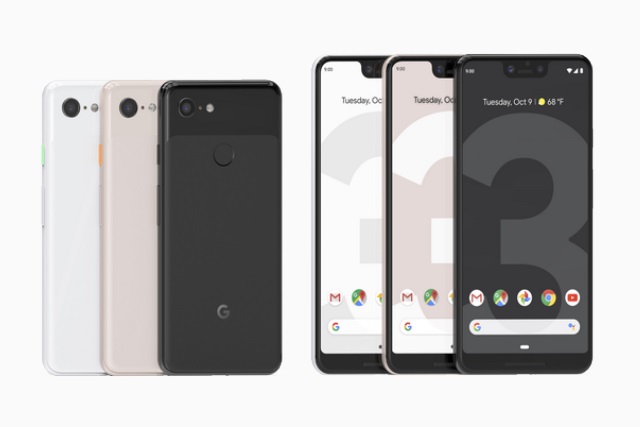 There have been so many leaks surrounding Google's latest Pixel phones that today's announcements felt like little more than a formality. Nevertheless, the Pixel 3 and Pixel 3 XL are now official.
Taking design inspiration from numerous other handset manufacturers, the new Pixels move away from previous models and have a glass construction. The 5.5-inch Pixel 3 does not feature a notch, but the 6.3-inch XL model does; both handsets feature a Snapdragon 845 SoC, 4GB of RAM, and 64 or 128GB of storage -- and, of course, Android Pie.
See also:
Both Pixels have a fingerprint sensor mounted on their rears, and there are front-facing speakers that are 40 percent louder than in previous generations. The 2160 x 1080 OLED of the Pixel 3 is not graced with a notch, but it does have very large bezels at both the top and the bottom. The Pixel 3 XL's 2880 x 1440 OLED features a large bezel at the bottom, and notch that could be described as "chunky". Elegant, it ain't.
Camera-wise, the stats don't seem too impressive. There is a 12MP rear-facer on both handsets, while facing forward are two 8MP cameras. This may not sound like anything too special, but Google tries to compensate with software gimmickry. An AI-powered feature called Top Shot avoids the problem of taking photos in which subjects blink, there is (allegedly) decent low-light photography, and enhanced zoom. As we've seen with the new iPhones, it's possible to adjust background blur after taking a shot, and there are plenty of other features too.
Google is pushing the AI elements of its new phones. The company says:
If you want to know more about something you're looking at, use Google Lens, built right into the Pixel 3 camera. To scan and translate text, find similar styles of clothing, or identify popular plants and animals, you can now long press in the Pixel 3 camera to easily open Lens. When you point your camera at information you want to remember or don't feel like typing in -- like a URL or QR code on a flyer or an email address on a business card -- Google Lens suggests what to do next, like creating a new contact.

You can count on even more help across other apps too, including Gmail's Smart Compose, now available for mobile on Pixel 3. Smart Compose suggests phrases in your emails so that you can draft them faster, on the go. Gboard, the keyboard built into your Pixel 3, will recommend GIFs, stickers and more, to make your conversations fun and engaging. Both are available first in English.
Google goes on to say:
The Google Assistant is also baked into Pixel 3 to help you find answers and control your phone and compatible smart home devices -- all with a simple squeeze or by using your voice. This year we have two new Assistant features coming to Pixel.

First, starting out in English in the US, Pixel 3's on-device AI helps you screen phone calls and avoid spam calls. Imagine you're at dinner with family or in a meeting at work and a call from an unknown caller comes in. Just tap on "Screen call" to find out who's calling and why, as well as other information (as prompted by you). You'll immediately see a transcript of the caller's responses so that you can then decide whether to pick up, respond by tapping a quick reply (e.g., "I'll call you back later"), or mark the call as spam and dismiss. Processing the call details on-device means these experiences are fast, private to you, and use up less battery.

Second, Pixel users in the US will be the first to get access to an experimental new Google Assistant feature, powered by Duplex technology, which helps you complete real-world tasks over the phone, like calling a restaurant to book a table. This feature will initially be available later this year in New York, Atlanta, Phoenix and the San Francisco Bay Area to help people book restaurant reservations and will roll out to other US cities in the future.
Both handsets support fast charging (a claimed seven hours use from 15 minutes of charging). The Pixel 3 has a 2,915mAh battery, while the XL's is 3,430mAh; both support wireless charging.
You can pre-order the Pixel 3 and Pixel 3 XL direct from the Google Store right now; the Pixel 3 starts at $799, the Pixel 3 XL at $899. Your color options are Clearly White, Just Black and Not Pink. The devices will be available in the US on October 18, and will spread to other markets on November 1.