Western Digital unveils 15TB Ultrastar DC HC620 SMR HDD for data centers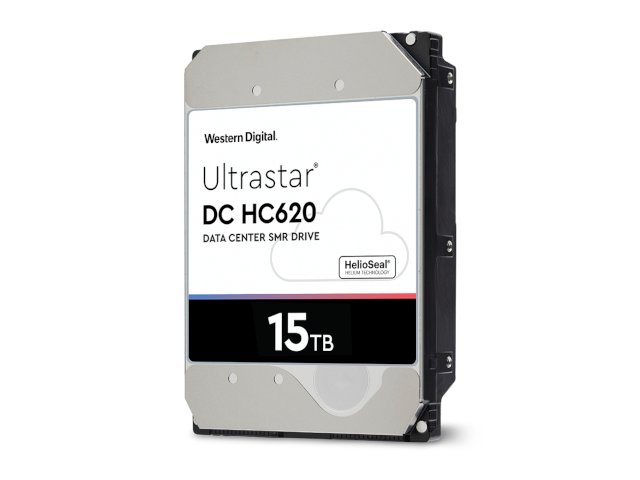 For home computer users, it is crazy not to use a solid state drive -- especially when coupled with a good cloud backup plan. With that said, data centers are an entirely different beast. When you are looking to maximize storage on a budget -- and with physical constraints -- a hard disk drive still reigns supreme. That's why its so important for companies to continue to innovate when it comes to mechanical hard drives.
For example, last year, Western Digital released an impressive 14TB SMR HDD for data centers, and today, the company kicks it up a notch. The 3.5-inch Ultrastar DC HC620, as it is called, gets a slight 1TB bump. In other words, this new data center drive features a very spacious 15TB of storage. And yes, as the SMR in the name implies, the drive uses the innovative shingled magnetic recording.
ALSO READ: HyperX launches internal FURY RGB SSD and external SAVAGE EXO SSD
"Setting a new bar for TCO, the Ultrastar 15TB host-managed SMR HDD is well positioned for hyperscale cloud and traditional data center workloads, including large video surveillance 'smart city' initiatives, storage for regulatory compliance and Big Data storage. Enabling the world's densest server and storage systems, incorporating 15TB HDDs allows a fully populated 4U60 HDD enclosure to reach a raw storage capacity of 900TB, which is an additional 60TB per 4U rack in the same footprint compared to those utilizing 14TB HDDs. In an at-scale environment where floor space, $/TB, TB per square foot, or watts per terabyte are critical, this TCO savings can be significant,"
ALSO READ: ADATA announces extremely rugged HD830 external HDD
Eyal Bek, vice president of product marketing, Western Digital explains, "With data continuing to grow at unprecedented rates, many hyperscale and cloud storage customers know that their workloads trend toward data that is written sequentially. In these instances, customers are optimizing their infrastructures with the lowest TCO and the maximum capacity. By capitalizing on our highest-capacity SMR storage solutions, our customers' investment can not only be fully leveraged today, but for subsequent generations of SMR areal density improvements for continued infrastructure optimization."
Western Digital shares the following specifications.
Data Buffer (MB): 512
Rotational Speed (RPM): 7200
Latency Average (ms): 4.16
Interface Transfer Rate (MB/sec, max): 600 (SATA) 1200 (SAS)
Sustained Transfer Rate: 244 / 223 MiB/s (max), 255 / 233 MB/s (max)
Seek Time (read, ms, typical): 7.7/12.0
Unfortunately, the drive is not available for purchase today, and pricing is unknown. If you are in charge of a data center and want to leverage these drives, you must wait until later this year -- Western Digital only says later in Q4. With that said, the company is currently sending out samples to clients for testing, so if you already have a contract with WD or a distributor that works with the company, it may be worth reaching out to see if you can participate.