Opera Touch 1.5.0 adds cookie dialog blocker to mark 24 improvements since launch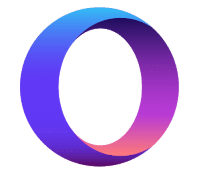 Opera Software has unveiled no fewer than 24 improvements since launching its mobile browser for Android and iOS. The latest build, Opera Touch 1.5.0 delivers a much-needed setting for automatically handling website cookie dialogs.
Other improvements since launch have included expanding the My Flow feature to connect mobile and desktop iterations of Opera, support for Private Browsing mode and a dark theme
The obvious main attraction is the cookie dialog control. Introduced as a countermeasure to websites constantly throwing up confusing and lengthy cookie-management dialogs -- allegedly to comply with GDPR, but often designed to trick people into inadvertently choosing the wrong setting -- Opera Touch now allows users to apply a universal setting whenever such a dialog appears.
The choice is accessed during the first-run setup as well as via Settings: flick the 'Block Cookie Dialogs' switch to on, then choose whether to automatically accept all cookie dialogs (the default) or reject them. Note, some websites may refuse to work with this latter setting.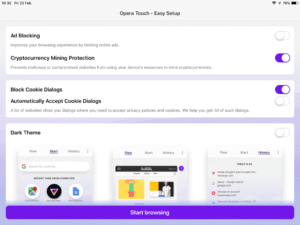 The feature works by combining various CSS rules and JavaScript heuristics to try and anticipate the appearance of such a dialog, and Opera promises to keep evolving the feature as sites attempt to bypass it.
The feature marks the two-dozen milestone mark for Opera Touch's list of improvements since its launch last year -- April on Android, and October for iOS. Other improvements have seen the My Flow feature, which allows users to transfer browsing between desktop and mobile via the main Opera browser, expanded to support more devices.
A new dark theme has been added, along with support for private browsing, configurable search engines, page translation, choice of mobile or desktop web sites and improvements to the ad-blocking features.
The Fast Action Button (FAB), which stays on-screen to allow quick access to vital features, has also been better optimised for iPad users, plus has been made available in tabs view with new features including tab preview. Opera Touch 1.5.0 is available now as a free download for both iOS (iOS 11.0 or later) and Android (5.0 or later). The Flow feature requires Opera for Windows, Mac and 64-bit Linux users.