Opera 64 adds new tracker blocking protection, improves Snapshot tool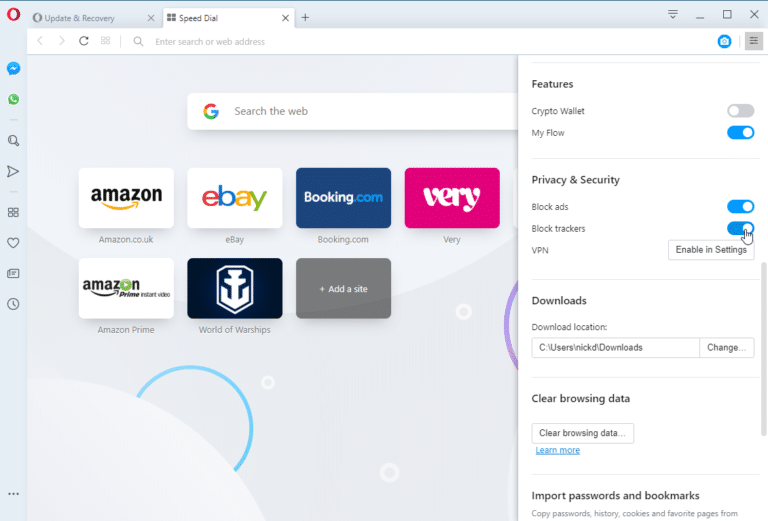 Opera Software has released Opera 64, the latest major update to its Chromium-based web browser for Windows, Mac, Linux and Android. The major highlight of this new release is the addition of built-in protection against tracking.
Opera claims the new feature, which sits alongside existing VPN and ad-blocking tools, makes the browser 20 percent faster than previous releases. Elsewhere, the browser's Snapshot screengrab tool also gains several improvements.
Users will find the new 'Block trackers' feature under Privacy & Security in Opera's Easy Setup menu. When enabled, Opera promises up to 20 percent faster browser through filtering out third-party tracking designed to build a picture of users' online activity to target them with personalized ads.
The feature makes use of the EasyPrivacy Tracking Protection List, and users can add their own custom lists and set up exceptions for specific websites via 'Settings > Privacy protection'.
Opera 64 also adds several new features to its Screenshot tool (accessible by clicking the camera button in the Address Bar). Users can now save an entire web page as a PDF by pressing Ctrl + Shift + 2. Users can crop out part of a website, capture it and then customize the results. Other improvements include enhanced blurring and drawing tools, and support for adding text to turn a shot into a meme -- three fonts (including Impact) are supported.
A full list of all changes, bug fixes and security patches can be found at the Opera changelog.
The news comes a few weeks after Opera debuted yet another niche browser -- Opera GX. This custom-tuned, Windows-only build of Opera is targeted at gamers but could also appeal to low-powered PC users as it enables you to control how much CPU and RAM is given over the browser. The browser also has Twitch integration, and its own custom theme, but otherwise follows the main Opera feature set closely.
Opera 64 is available now as a freeware download for Windows, Mac and 64-bit Linux users. Support for OS X 10.10 has been dropped with this release. Opera 64.0 Portable is also available for Windows users. Existing users should be able to update from within Opera itself -- simply open the Opera menu and choose 'Help > About Opera' to do so.