Minisforum EliteMini H31G Windows 10 and Linux PC impressions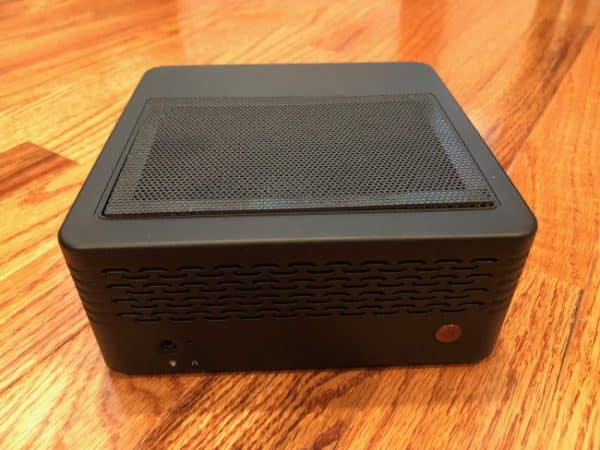 For whatever reason, I absolutely adore diminutive desktop computers. From the Apple Mac mini to the Intel NUC series, I am always fascinated by how much power can be crammed into a small form factor. Quite frankly, it is fun to have a tiny PC next to a big monitor and have friends and family marvel at the cuteness.
So when a new mini computer from Minisforum caught my eye, I knew I had to give it a go. Called "EliteMini H31G," it is a bit bigger than a traditional Intel NUC, but that is OK, as it is packing something special -- discreet NVIDIA graphics partnered with a 9th generation Intel Core processor. In other words, this little beast can handle gaming and video editing.
What GPU does it have? Obviously not something top of the line, as we are dealing with size and cooling constraints, but the graphics are still rather respectable -- an NVIDIA GTX 1050Ti with 4GB DDR5. This GPU is housed on the top of the computer, and the entire PC is cooled with two small fans. There is a grill at the top to pull in air, and it even comes with a magnetic dust filter, so you can remove and clean it with ease. It exhausts heat out the rear -- you can feel the warm air if you place your hand there.
The one I have been testing comes with a 3Ghz Intel Core i5-9500F, which has 6 cores and can boost to 4.4Ghz. It has a single stick of 8GB RAM (meaning single channel, sadly) and a 256GB Kingston NVMe SSD. It also has Wi-Fi 6 and Bluetooth 5.1 thanks to the Intel AX200 card.
Best of all, the RAM, Wi-Fi, and storage can be easily upgraded -- you can gain access to the inside by removing four screws (watch the below video). Besides replacing the 2280 NVMe SSD, you can also add an additional 2.5-inch HDD/SSD and/or a 2242 M.2 SATA SSD. Inside, there is a plastic mounting bracket and a combo power/data cable for the 2.5-inch drive. This would be great for adding storage or dual-booting Linux.
Wait, this can run Linux? Yes, quite brilliantly in fact. Besides running Windows 10, I also installed Fedora to a 2.5-inch SATA SSD I added, and it ran great. Given the NVIDIA graphics, however, I would probably recommend POP!_OS for its ease of use when dealing with that company's GPUs. Since the Wi-Fi is Intel, it works in Linux without headaches.
On the front of the computer is a red power button and a 3.5mm headset audio port. Surprisingly, there are no front USB ports. The right side is empty, while the left side has a micro SD card reader, and three dedicated 3.5mm audio jacks -- line in, mic in, and headphone out. Yes, that is in addition to the front 3.5mm port -- weird, right?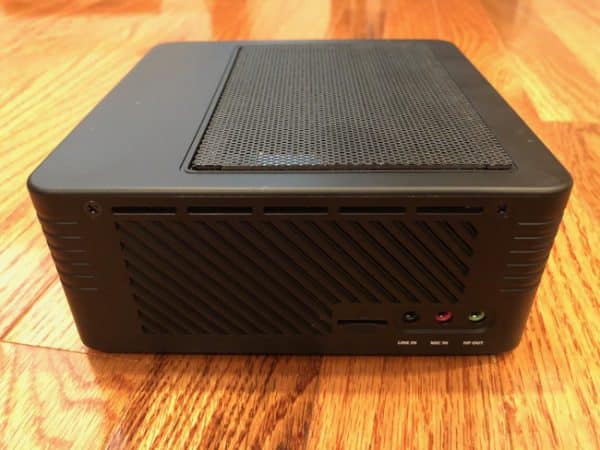 The USB ports are all on the rear -- four of them which are USB 3.0 Type-A . Sadly, this PC has no USB-C ports. That is very disappointing for a computer in 2020, but it is what it is. The back is also home to the power port, HDMI, mini DisplayPort, and gigabit Ethernet. It is all arranged nicely.
So, how has the Minisforum EliteMini H31G been running for me? Quite great, actually. Both gaming and video editing have been satisfying. It can handle mid-range games like Rocket League and Doom (2016) quite well, but don't expect to max out settings with a 1050 Ti. Davinci Resolve handled my editing and exporting brilliantly. Under full load, the fans never got obnoxiously loud, but they were obviously audible.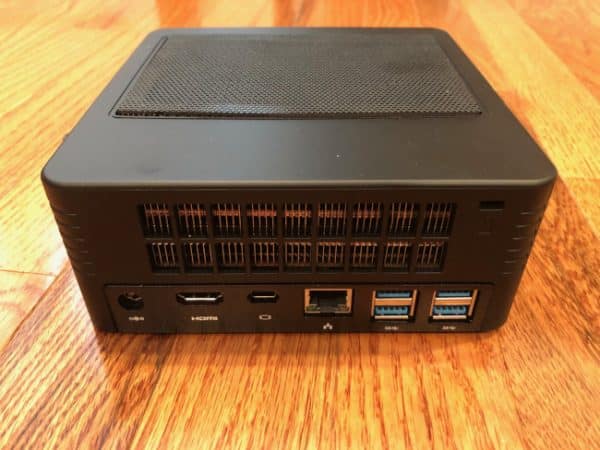 Watching media, including 4K60 content, was not an issue -- there is no stuttering or lag. My only hiccup was with the video signal cutting in and out. At first I thought something was wrong with the EliteMini H31G itself, but after quite a bit of troubleshooting, it turned out to only be the HDMI cable that came in the box. Swapping it for a different/better cable solved this issue.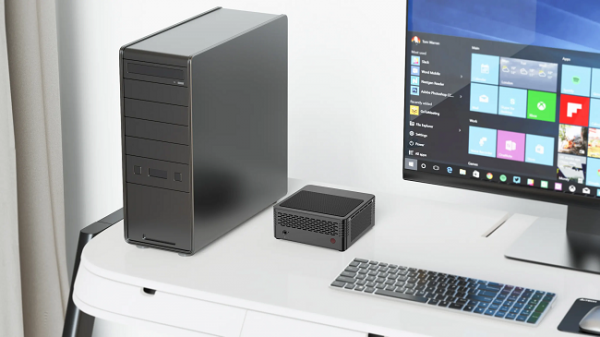 Do I recommend the Minisforum EliteMini H31G thus far? Absolutely. The engineering that went into cramming all of this into such a tiny chassis is very impressive, and it runs Windows 10 and desktop Linux distros without issue. It seems like a high-quality machine -- I really like it. Just be mindful that there is no USB-C -- that might be a deal-breaker for some of you.
My advice would be to opt for 16GB RAM so you can have 2x 8GB in dual channel mode. And while I am sure the 8-core i7-9700F is great, the 6-core i5-9500F is quite capable, so I'd recommend opting for the latter to save some money. It is a very impressive chip.
If you would like to configure and buy your own, you can do so here. If you do purchase one, please share with me the specs you chose in the comments below.