Apple Business Essentials launches in Beta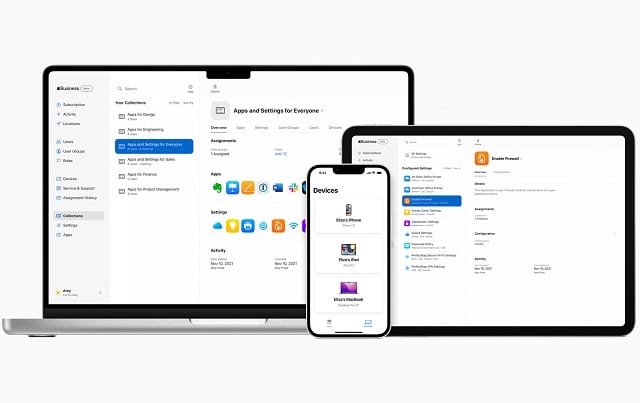 Do businesses use Apple products? Well, iPhone smartphones and iPad tablets without a doubt. Are Mac computers used in the business world though? Not so much. Typically, the only Mac you see in an office belongs to the resident artsy employee that works on designing things. For the most part, Microsoft Windows still reigns supreme in the Enterprise.
With that said, some companies are all-in on Apple hardware, forgoing Windows for computers running macOS instead. True, it is rare, but some businesses do it. And now, if a small business has 500 or fewer employees, Apple is making it easier than ever to manage iPhone, iPad, and Mac computers. Launching today in Beta, Apple Business Essentials is a seemingly elegant solution for setting up and managing Apple devices, but also, the service offers assistance with things like backing up data, security, repairs, and more.
ALSO READ: Apple introduces new MacBook Pro with M1 Pro and M1 Max -- its most powerful chips yet
"Within Apple Business Essentials, Collections enable IT personnel to configure settings and apps for individual users, groups, or devices. When employees sign in to their corporate or personally owned device with their work credentials, Collections automatically push settings such as VPN configurations and Wi-Fi passwords. In addition, Collections will install the new Apple Business Essentials app on each employee's home screen, where they can download corporate apps assigned to them, such as Cisco Webex or Microsoft Word," says Apple.
ALSO READ: Apple's superb AirPods just got even better
The iPhone-maker adds, "With Apple Business Essentials, it's simple to maintain strong security across the organization. IT managers can enforce critical security settings such as FileVault for full-disk encryption on Mac, and Activation Lock to protect devices that may be lost or stolen — and Apple Business Essentials ensures these aren't turned off by mistake. When employees use a personal device at work, User Enrollment creates cryptographic separation for work data, to ensure employee data remains private while company data remains secure."
If you are interested in Apple Business Essentials for your organization, you can learn more here. Pricing starts at just $2.99 monthly per user, but there are various tiers depending on how many devices each user will have. The service is expected to exit Beta in Spring 2022.