How next-generation remote desktops are giving power users more flexibility [Q&A]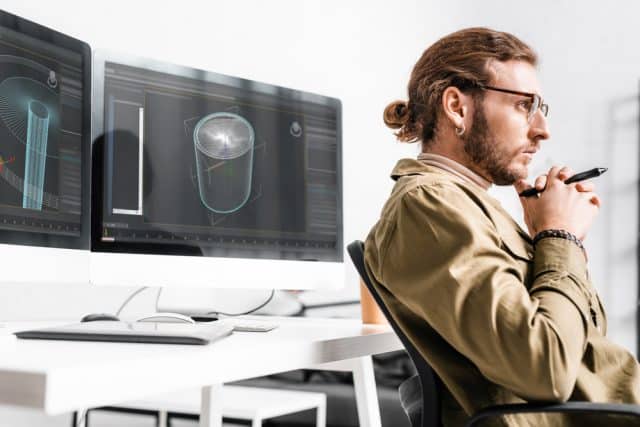 Driven by the pandemic, remote work has been normalized in many offices. But while it works for many tasks it's not so useful for power users.
Think architects, 3D developers, game developers and designers who rely on high-powered computing to get their jobs done. They can't easily take a $50,000 workstation home to do their work.
We spoke to Benjy Boxer, CEO of remote desktop company Parsec, to find out how the next-generation remote desktops can solve this issue and allow almost anyone to work remotely.
BN: Remote desktop technologies have been around for a long time for low-compute applications. What's the challenge for power users or people who have to have access to high-powered workstations?
BB: Yes, remote desktop technologies have indeed been around for a long time -- remember the days of Microsoft Virtual PC? -- but they were designed to serve the broadest possible uses, mostly for low-compute applications. Think basic office functions like accessing files remotely and operating software like Microsoft Word. This was the consumer wave of remote desktop use.
Over time, large service organizations began to use remote desktop technologies to troubleshoot issues remotely on customers' computers remotely. In both of the scenarios outlined above, these broad remote desktop utilities worked just fine.
Where the traditional remote desktop falls short is in replicating the experience of working on a high-performance workstation. The moment input latency or video smoothness becomes an essential part of a job, the remote desktop breaks down. This is especially important for professionals in creative fields -- game developers, architects, 3D designers, etc. -- whose jobs depend on interactive, 3D applications running on high-powered workstations.
The fact is, as much as these creatives would like to have a computational powerhouses at home, it's just not practical -- nor is it economically feasible for employers because hardware of this caliber can reach the tens of thousands of dollars when you consider the main computer, peripherals, external hard drives, etc.
Now, serving the needs of one creative professional is great, but things get even trickier when you factor collaborative tasks into the mix. In an office, reviewing a final rendering, or pairing on an engineering project, is as simple as walking over to the workstation and sitting around it together. But traditional remote desktop has lacked fluid collaborative functionality. It just wasn't designed for it.
The market has traditionally lacked a remote desktop solution that has the performance these creative professionals need as well as the controls, automation and security capabilities for IT to confidently roll these technologies out company wide. And without that, it's impossible to adequately serve the high-compute performance needs of the average enterprise. And if these folks who need access to their high performance computer cannot do that work from anywhere, they're stuck, tied down to their desks watching their colleagues have the freedom to work from anywhere. Having a remote desktop for the high performance creative class available gives them freedom and flexibility while diversifying where a company can hire.
BN: How has COVID impacted the lives of these power users?
BB: Many employees today feel liberated by the push to work from home -- creative professionals are no exception. In fact, many claim that working from home inspires greater productivity and creativity. Interestingly, we conducted a study last year which found that 78 percent of our game developer clients and 92 percent of our animation and computer graphics customers were happier working from home.
For many of these professionals, the pandemic was their first real experience at working from home. And now they want it all the time.
Across industries, we're seeing distributed work become a basic expectation of any job search. If companies don't meet that demand, the best talent is going to look elsewhere. And these creatives are no exception.
Working from home -- or beachside in Thailand -- felt like freedom for many of these professionals, but reality set in when they had to rely on consumer-grade computers. Just think of a game developer running a game engine on a low-end PC. Sure, it'll run, but the lag, low-resolution, and rough mouse or gamepad control would greatly hinder that developer's ability to get their job done at peak performance.
BN: How have the needs of IT teams changed as they work to support these users? What are some of their unique challenges?
BB: IT was hit hard by the pandemic. A group that was already overwhelmed and understaffed found itself underwater at the height of COVID-19, scrambling to keep employees productive remotely -- while keeping company assets safe.
Pre-pandemic, our focus was on consumer gaming, but once we all went remote, demand on the enterprise side from industries like TV production, CGI design, Architecture, 3D design, etc. began to pour in. That's when we rolled out 'Parsec for Teams', but that still couldn't quite scale for large enterprise use.
We began hearing feedback from the CIOs and IT departments of our customers that they needed greater security and more controls to provision and administer virtual cloud and physical workstations from anywhere, so they could scale the solution to their large workforces.
To give you an interesting example, in the last year, we powered two major gaming events -- Ubisoft Forward and TriBeCa Games. These companies used Parsec to offer remote demos, making their events accessible to attendees who couldn't be there in person. The key word here is accessibility.
Aside from low-latency, these companies chose us because we could scale for any size deployment, which is critical for big gaming launches. Our Parsec for Teams API offers granular controls, automation and integration capabilities to enable mass access to demos, making these massive deployments possible.
BN: There are some interesting intersecting trends like 'The Metaverse'. What's the future there and what will play a role in its creation?
BB: It's impossible to guess at what 'The Metaverse' will actually look like. It won't be created by a single company, but rather will be the result of thousands upon thousands of creators contributing to interactive 3D projects that are just ideas right now.
Our role in the metaverse is simple: empowering creators to actually build those worlds. It's leveraging next-gen technologies like AR and VR to truly merge the online with the physical. It's about delivering more content in 3D, which is compute-intensive. But bringing The Metaverse to fruition will require more 3D assets, delivered in real-time. This is where we come in. We connect the creators building these projects in the lowest latency technology out there. Parsec lets them build these new 3D worlds from anywhere.
And this idea of The Metaverse spans far beyond gaming; 3D environments have made their way into other sectors like engineering, retail, construction, manufacturing, etc. This is where every industry is headed. This is work that is happening now -- and we're incredibly excited to be at the intersection of it.
Image credit: HayDimitry/depositphotos.com