MINISFORUM EliteMini TH50 is a diminutive Windows 11-ready PC with Thunderbolt 4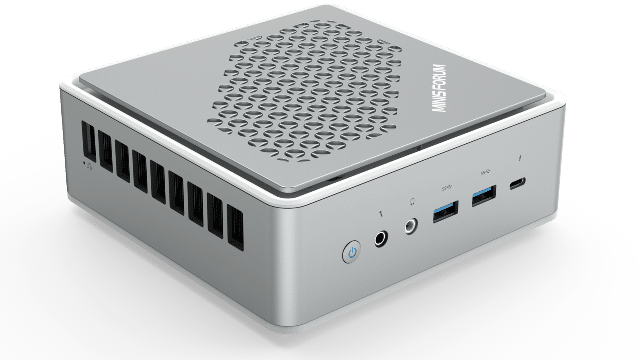 Everybody wants a giant and powerful desktop computer, but most consumers don't actually need a hardcore PC. Heck, nowadays, many consumers don't have enough space in their homes to accommodate a full-sized tower. If you find your home is too cramped, a laptop may be a wise choice. If you insist on a desktop, however, a mini computer, such as an Intel NUC can be a very good choice too.
MINISFORUM is another company producing mini desktop computers, and today, it announces quite the beauty. Called "EliteMini TH50," this diminutive Windows 11-ready desktop is powered by a very modern quad-core (8 thread) 11th generation Intel Core i5 processor (i5-11320H). My biggest complaint about MINISFORUM computers is they can be a bit loud. Thankfully, the company says this model will be much quieter.
The MINISFORUM EliteMini TH50 comes with 16GB RAM standard, which is cool, but it is soldered, sadly, and not upgradeable/replaceable. You do, however, get your choice of three storage configurations -- no SSD (add your own), 256GB, and 512GB. Best of all, it has Thunderbolt 4 so you can connect an external GPU (for more hardcore gaming) or a different TB3/4 accessory, like a super-fast external SSD.
"The TH50 also features Thunderbolt 4, the latest version of the high-speed I/O interface standard, which offers the full range of features available on USB-C. From the existing standard Thunderbolt 3, the PCI Express standard increases the data transfer speed from 16 Gbps (2 GB/sec) to 32 Gbps (4 GB/sec). Combined with the HDMI and Display ports, the TH50 supports 4K video display x 2 screens / 8K video display x 1 screen, allowing for 3 screens to be used simultaneously," says MINISFORUM.
The computer-maker adds, "The EliteMini TH50 also has excellent cooling capabilities. It is approximately 34 degrees at idle and 70 degrees at full load. EliteMini TH50 has a built-in cooling fan with a mesh structure on the top panel and sides, making the fan's air easier to reach, improving the PC's heat dissipation, achieving high processing speeds and maintaining responsiveness. By using a silent fan, the TH50 operates at a much lower noise level of 45.2dB during normal operation and 48.5dB at full load."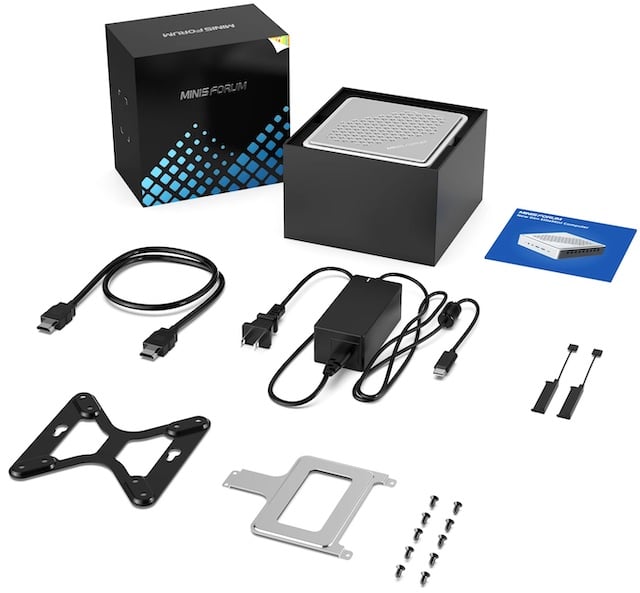 MINISFORUM shares specifications below.
Processor
Intel Core i5-11320H Processor, 8 Cores/8Threads (8M Cache, up to 4.50 GHz)
GPU
Intel Iris Xe Graphics eligible (Graphics Frequency 1.35 GHz)
Memory
LPDDR4 16GB (On Board. Unable to upgrade memory)
Storage
M.2 2280 512GB PCIe SSD
Storage Expansion
2.5 inch SATA HDD Slot×2 (SATA 3.0 6.0Gb/s)
Wireless Connectivity
M.2 2230 WIFI Support (Dual-Band Wi-Fi,BlueTooth)
Video Output
① HDMI (4K@60Hz)
② DisplayPort(8K@60Hz)
③ Thunderbolt 4 (8K@60Hz, In Front)
Ports and Buttons
2 * RJ45 2.5 Gigabit Ethernet Port
2 * USB2.0 Port Type-A (Left Side Of The Back)
4 * USB3.1 Port Type-A (Gen2)
1 * HDMI
1 * DisplayPort
1 * 3.5mm Audio Jack(Green)
1 * Clear CMOS
Power
DC 19V (Adapter Included) , via USB-C (Power Port)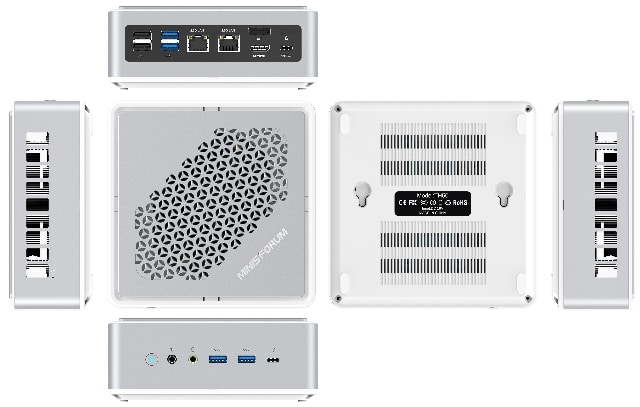 The EliteMini TH50 can be ordered from MINISFORUM directly here now, although it won't begin shipping until February 2022. The company is asking $529 for the model with no SSD, $569 with a 256GB SSD, and $599 with a 512GB SSD. The two models that come with storage will have Windows 10 Pro pre-installed, but you can, of course, upgrade to Windows 11 for free. It should prove to be a very nice Linux machine too.
Please note: Some of the above links may be affiliate links, meaning we, or our writers, may receive payment if you purchase one of these items (or other items) after clicking on them.