New solution helps guarantee electronic documents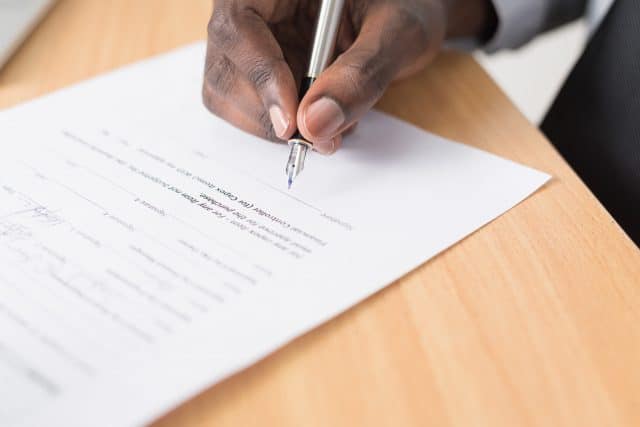 Electronic documents are becoming more common in business, but this doesn't eliminate the risk of forgery or tampering.
UK-based Borderless Security is launching a new e-signature solution that makes use of blockchain technology to create a safe, secure and convenient solution for signing paperwork, contracts and legally binding documents.
FilesDNA provides a user-friendly process for the ID verification of every signed user and help eliminate fraudulent activities via blockchain integrity. It also utilises a voice recognition system that captures the unique parameters of a user's voice to provide an additional layer of security, to protect their identity and e-signature.
Alongside voice recognition it has the option of fingerprint identification, so users can sign documents using their individual fingerprint, there's also passport and ID verification, so users can scan their passport to prove their identity.
It verifies every step of the document signing process from authorized business personnel and contractor IDs to buyers and sellers, and protects electronic documents that require both digital and electronic signatures, using the application of artificial intelligence.
"Using cloud-based technology, blockchain technology and cryptographic methods, our free e-signature software ensures that each and every document you sign is an authentic, transparent document that hasn't been altered after being signed. With multiple layers of security, from machine learning in our Smart Signature Pad to ID and fingerprint verification, we go the extra mile to ensure all your documents are safe and sound," says Mo Sahib, CEO of Borderless Security.
FilesDNA offers the ability for users to sign documents via a wireless pen for improved accuracy. This enables users to input their own signature, and also makes forgery difficult as FilesDNA employs artificial intelligence and machine learning to learn and secure signatures, thanks to the signature pad being able to identify the features of a user's individual penmanship.
"There was previously no solution to bond e-signature with the real physical person, which is why we created FilesDNA," adds Sahib. "It is the only solution today that does just that. Our electronic signature tool and document management system has been designed with innovation at its core. We utilise a number of cutting-edge techniques and emerging technologies to enhance the customer experience, such as blockchain integrity, machine learning, and NFC compatibility."
You can find out more on the FilesDNA site.
Image credit: Cytonn Photography/Unsplash.com