Leadership and technology tips for running a remote company successfully [Q&A]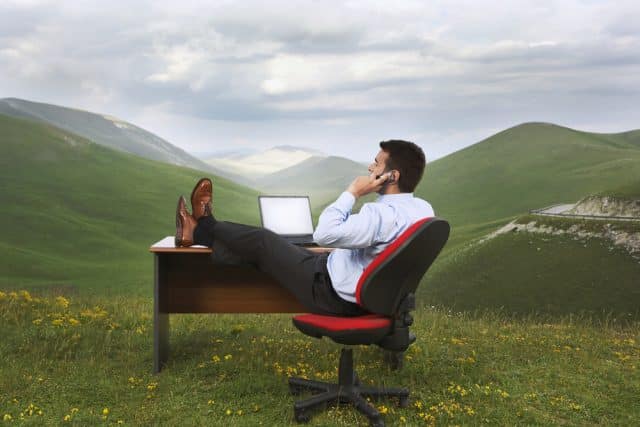 When the world shut down in March 2020, many of us envisioned a two-week work-from-home stint, followed by a prompt return to office life. Little did we know that the business world, as we knew it, would change forever.
At the start of the COVID-19 pandemic, the overnight shift to a remote workforce was done out of necessity. But, over the past two years, companies have realized that this new operations model can have many business benefits, including cost savings associated with physical office space and a better work/life balance for employees.
The latter has turned into a major incentive, helping companies recruit and retain talent as they battle the Great Resignation and ongoing labor shortage. That's why, even though companies have reopened their doors, many continue to offer employees some form of remote work option. In fact, new research from Pew Research Center finds that approximately six-in-10 workers in the US who acknowledge that their jobs mostly can be done from home (59 percent) are working remotely all or most of the time.
In this new business landscape, leading a remote-first company effectively has never been more critical to success. To get some leadership and technology tips and tricks for success, we chatted with Andrew Maloney, co-founder and COO of Query.AI, which has been a completely remote company since its inception in 2018.
BN: How do you keep a remote workforce connected?
AM: You have to be strategic about the communication tools you adopt. In the remote world, you can't just walk up to your colleague and ask a question, tell a story, or collaborate on a work project. But that doesn't mean employees can't have a similar experience when working from home. By leveraging the right technology, you can make it just as easy for employees to engage with each other. For example, our company uses Slack to connect our employees across the US and globally. Within the Slack platform, every team member is easily accessible with a click of a button. And because of this ease-of-access, we're often chatting about both work and non-work topics all day long. We might not be sitting next to each other, but we're just as connected as if we were.
One word of caution here. Whether you're already remote or making the move to a remote workforce, it's important to maintain a comprehensive understanding of all the different platforms and services you're subscribing to and who has access to each and at what level. Otherwise, the technology that you're using to communicate and collaborate will have unintended security consequences that can negatively impact the business.
BN: What is your top tip for leading a remote workforce?
AM: Actually, there are two things I recommend. The first is building genuine relationships with your employees. Getting to know your employees on a personal level is so important because it shows you care, and it builds a level of camaraderie that goes beyond the average employer-employee relationship. Building in weekly calls to chat with your employees not just about work items, but personal topics as well can go a long way to building trust and solid relationships. For example, on any given day, I could be having a conversation about one of my employee's son's high school hockey team, the latest episode of Yellowstone, or my woodworking hobby. This is what makes our staff feel like family rather than just colleagues.
The second tip is making sure your employees understand what they are responsible for -- both as part of their daily job duties as well as the larger role they play within the company. All employees should know what metrics and goals they are contributing to as part of their department and then also how those play into the company's overall success. When employees understand these two things, they take their jobs more seriously and put forth their best effort, every day.
BN: Are there any technologies that can help with team building in a remote world?
AM: Absolutely, and many communication and collaboration tools offer these capabilities as well. For example, we use the Slack app Donut, which generates meetings to facilitate virtual introductions between employees who don't know each other well. It's a great way to connect employees around the world and even across the US who otherwise wouldn't have an opportunity to engage on a daily basis. We also take advantage of virtual team building activities, such as online Scrabble. We all sit in a virtual room and play games together. These are the types of activities that can really build relationships when in-person coffee breaks aren't possible.
BN: What should business leaders keep in mind as they continue to adjust their technologies and processes for a remote workforce?
AM: Many companies had to accelerate their digital transformation timelines in the wake of COVID-19 to support remote employees and maintain business operations in this new model. For most IT teams, the primary goal was to get up and running quickly to keep the business going, leaving security as an afterthought. But now that we're two years in, organizations must identify and plug the security holes introduced by the rush to the cloud -- such as misconfigurations, excessive access rights and shadow IT. To kick start this process, organizations must engage in after action review. They must identify what was changed in the shift and what new technologies were adopted, given that many are likely openly accessible cloud services or SaaS applications. They must enforce least privilege access, to start, and implement a Zero Trust model evaluating identity and access. And last but not least, they must ensure complete visibility across environments and devices, implement vulnerability management with aggressive system patching policies, and have a threat detection and response ecosystem in place.
Equally as important to shoring up security processes and technologies is focusing on your people to build a security culture. This can be difficult in a remote world, but it's critical to ensure employees understand the cybersecurity risks they could potentially face and respond appropriately in the event of a legitimate threat. Similar to ensuring employees understand their role in company success, business leaders should take care to also make sure employees are aware of how their actions (e.g., reusing passwords, clicking on suspicious links, sharing confidential documents, etc.) could negatively impact the organization's security posture. This will help them keep security top of mind, so they maintain good cybersecurity hygiene, day in and day out.
Image credit: londondeposit/depositphotos.com