PDFsam Basic 5.0 released, makes it easy to split, merge and extract pages from PDFs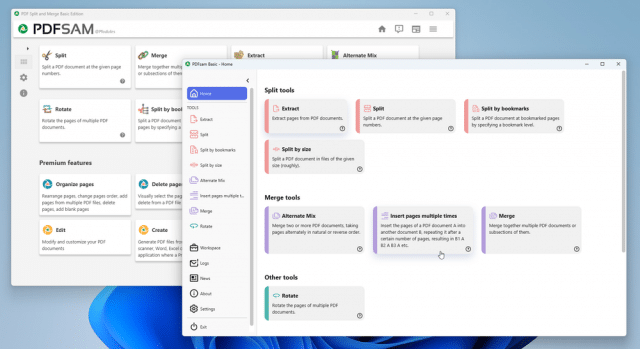 Sober Lemur SRL has just released a major new version of its free and open-source PDF toolkit with the launch of PDFsam Basic 5.0 for Windows, macOS and Linux.
The application, which allows users to quickly and easily extract pages from PDFs as well as offering split, merge and rotate tools, gains a major facelift with the version 5 release, along with a brand new tool and several additions to existing features.
PDFsam Basic is designed to sit alongside your PDF viewer to offer extra features you may be missing. Fire it up to be confronted with an attractive list of options, split into three broad sections: Split, Merge and Other. Each one has a quick explanation offering exactly what it does -- either click one or use the menu on the left to jump to the relevant part of the program.
You'll then be shown a list of controls related to the option you've picked. At the top is where you select your PDF or PDFs, then beneath this are a series of context-sensitive settings. Everything is logically laid out and easy to understand -- set things up and click Run to produce a new PDF from your previous choices.
Look out too for a collapsible advanced settings section allowing you to shrink the output file through compression and choose a PDF standard version (1.5 through to 2.0) if you need to change it for compatibility reasons.
Version 5.0 unveils a major redesign of the user interface. In addition to redesigning the modules and their icons, a new sidebar layout has been added with direct access to any of the program's tools. Users also gain the ability to switch between four themes -- two light, and two dark -- via the program's settings, along with an option to set the application's font size.
The Extract pages tool gains an option for creating separate PDF files for each page range, allowing users to extract multiple documents from a single parent. A new 'Insert pages multiple times' tool has also been added to the suite.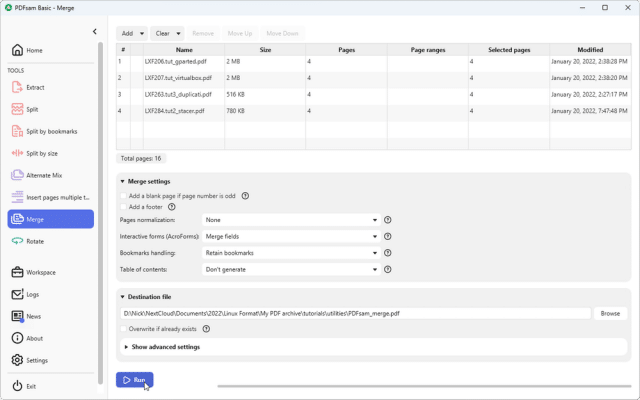 The Merge and Alternate Mix tools now displays the total number of selected pages, plus gains a column to show the number of selected pages per row, based on the user-defined input interval. One other change to the Merge tool sees the Page normalization option become a combo box with an additional entry.
PDFsam Basic 5.0 is available now as a free, open-source download for Windows 64-bit (including a portable build), macOS and Linux.