Veteran file hosting service Zippyshare to shut down at the end of the month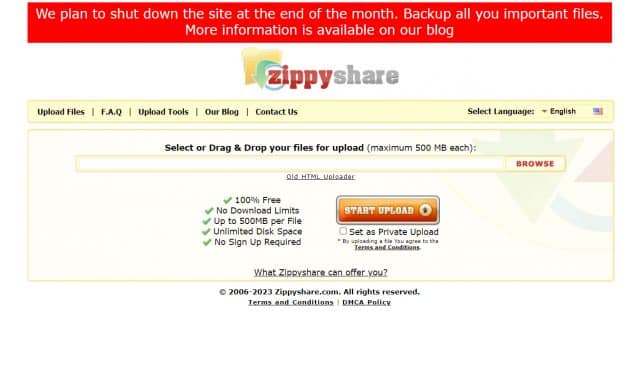 Although there are many file hosting services to choose from, Zippyshare is one of the better known, having been around since 2006.
Providing an easy, fuss-free way to store and share files, Zippyshare has a lot of fans, but it's been struggling to make ends meet recently, despite still seeing around 45 million visits a month.
The site's problems can be boiled down to the proliferation of ad blockers and the rising cost of electricity.
Announcing the closure of the project on its blog (the first post in five years), the team says:
Hey Folks,

We've decided that we're shutting down the project at the end of the month. Please make backups of your important files, you have about two weeks to do so. Until then, the site will run without any changes.

There are several reasons for the closure:

– Since 2006 we have been on the market in an unchanged form, that is, as ad financed/free file hosting. However, you have been visiting in less and less over the years, as the arguably very simple formula of the services we offer is slowly running out of steam. I guess all the competing file storage service companies on the market look better, offer better performance and more features. No one needs a dinosaur like us anymore.

– All sorts of adblockers, whether built into the browser, as add-ons, or in the form of DNS services. Sure, we all use them, but they take away any control the site owner has over the site. Eventually we get to the point where a vicious cycle begins, in order to pay for the server infrastructure you are forced to place more and more ads, then users fire up more and more adblockers and we get to a point like today.

– Rising electricity prices. Over the past year, electricity prices have gone up 2.5 times, which, with a large number of servers, gives a significant increase in costs that we have no way to balance.

There are still a bunch of smaller reasons, but we could write a book on this, and probably no one would want to read it.

To sum it up, we can no longer afford to maintain the site.

You can send us any comments to (we'll read them all, we'll probably respond to just a few):
[email protected]

Thanks for being with us over the years.

See you in the depths of the Internet. o7
Anyone using the service will have until the end of the month to move their files elsewhere.