TEAMGROUP launches T-FORCE VULCAN SO-DIMM DDR5 gaming RAM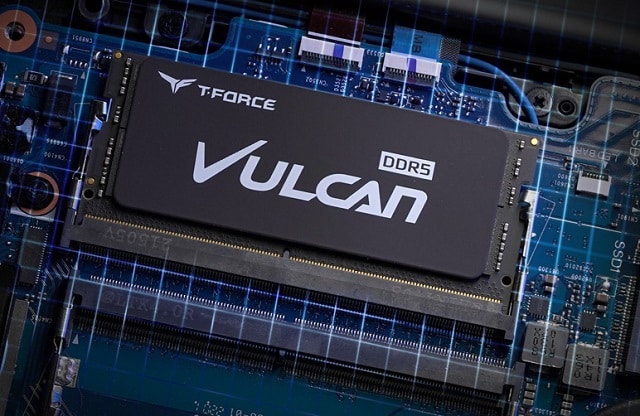 TEAMGROUP today launches a new product in the form of T-FORCE Vulcan SO-DIMM DDR5, which is designed for high-performance laptops, gaming notebooks, and small form factor PCs. The new DDR5 memory module provides a significant boost in speed and performance compared to its predecessor DDR4.
The T-FORCE Vulcan SO-DIMM DDR5 comes in a sleek black design with a heatsink that is designed to improve thermal dissipation, which ultimately enhances stability and reliability. The memory module is available in capacities of up to 32GB, which is ideal for multitasking, gaming, and demanding workloads.
The T-FORCE Vulcan SO-DIMM DDR5 has a maximum frequency of 5,200MHz. This higher speed can result in faster loading times, better responsiveness, and smoother multitasking, making it an ideal choice for high-performance laptops and gaming notebooks.
Furthermore, the T-FORCE Vulcan SO-DIMM DDR5 also comes with improved power efficiency. The memory module operates at 1.1V compared to DDR4's 1.2V, which results in lower power consumption and less heat generation. This is an important consideration for laptop users who rely on battery life, as the lower power consumption can help to extend battery life.
TEAMGROUP has also incorporated several advanced technologies into the T-FORCE Vulcan SO-DIMM DDR5 to improve its performance and reliability. The memory module features error-correcting code (ECC) technology that detects and corrects errors in real-time, ensuring data integrity and reducing the risk of system crashes. It also has support for on-die termination (ODT), which helps to reduce signal reflections and improve signal integrity.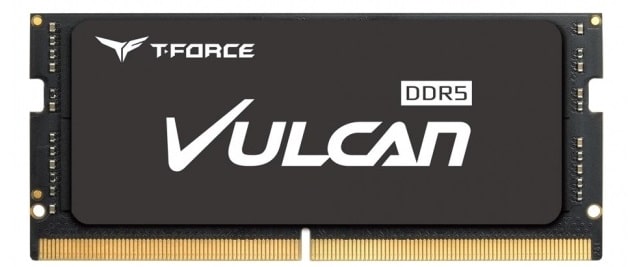 Module Type
DDR5 262 Pin Non-ECC Unbuffered DIMM
Frequency
5200
Latency
CL38-38-38-84
Capacity
16GB / 16GBx2 / 32GB / 32GBx2
Data Transfer Bandwidth
41,600 MB/s
(PC5 41600)
Voltage
1.1V
Compatibility
Intel 13th Laptop
Dimensions
30(H) x 70(L) x 3.7(W)mm
Heat Sink
Graphene-metal composite
Warranty
Lifetime warranty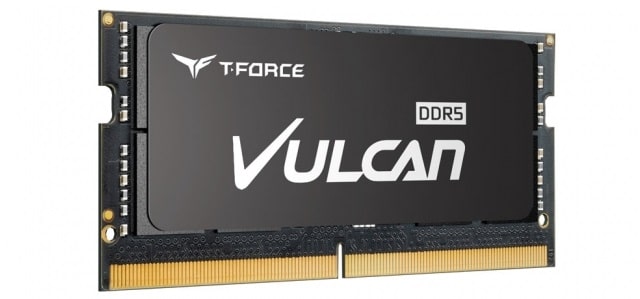 Ready to buy this TEAMGROUP T-FORCE VULCAN SO-DIMM DDR5 RAM? Well, you can't; at least not today, anyway. Sadly, TEAMGROUP has not shared an exact release date or price for this memory. With that said, you will eventually be able to buy it here.
Please note: Some of the above links may be affiliate links, meaning we, or our writers, may receive payment if you purchase one of these items (or other items) after clicking on them.