Is anyone using the Preview pane in File Explorer?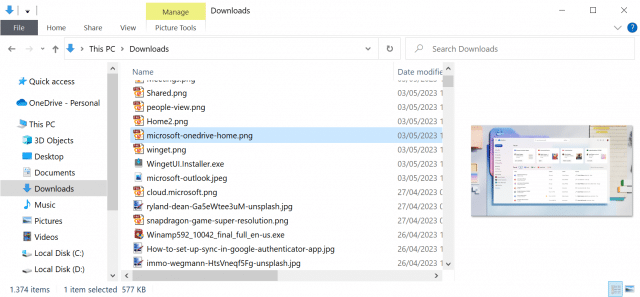 Windows' default file management tool, File Explorer, has a preview pane. Windows users may toggle it with the keyboard shortcut Alt-P or the selection of View > Preview Pane.
It displays previews of supported file types. If you select an image in the main pane, a thumbnail of that image is displayed in the preview pane.
The preview pane displays a "no preview available" message if it can't display a preview. Most file types are not supported by default, which limits the use of the preview pane.
There is an option to expand support, but most Windows users are probably unaware that such an option exists. This option adds text files support, and users may want to check if it is enabled on their devices.
To check for text support, do the following:
Open File Explorer.
Select View > Options.
Switch to the View tab.
Locate "show preview handlers in preview pane".

If it is checked, text files should be displayed as previews.
If it is unchecked, the "no preview available" message is displayed.
The Preview Pane has its use, but it is quite limiting at best. When enabled, it is also taking away space from the main files pane of File Explorer. While that may not be a problem on large resolution displays, some users may prefer to keep it disabled all the time or most of the time.
Image previews, furthermore, may also be shown directly in File Explorer, if one of the thumbnail views is selected under View.
One of the recent Windows 11 Insider builds introduced a modernized details pane recently. It would not be totally out of the question if a similar modernization would be in development for the Preview Pane.
'Is anyone using the Preview pane in File Explorer?' first appeared in Weekly Tech Insights, a free weekly newsletter that you can sign up to here.