Silicon Power announces Cinema Pro PNV350 USB-C SSD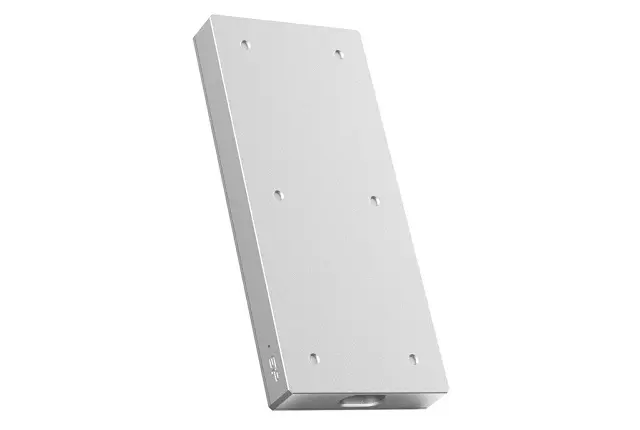 Today, Silicon Power announces its latest portable solid state drive. Called "Cinema Pro PNV350," the external USB-C SSD offers very fast performance thanks to its USB 3.2 Gen2x2 interface. Silicon Power says the design is inspired by "architectural concrete," but truth be told, it looks like a standard rectangle to me.
The entire body of the Cinema Pro PNV350 SSD is made of CNC-machined aluminum, not only giving it a sleek and modern look but also allowing heat to be conducted quickly and efficiently. The result is enhanced heat dissipation and maximum utilization of the heat-dissipating surface area, ensuring optimal performance even during demanding tasks.
One of the standout features of the Cinema Pro PNV350 is its impressive level of protection. With an IP67 dustproof and waterproof rating, this SSD can withstand the harshest conditions. Whether you're shooting in dusty environments or braving the elements, you can trust that your valuable data is safe. Additionally, the SSD has passed a rigorous 2-meter drop test, providing peace of mind in case of accidental drops or impacts.
To further enhance the user experience, Silicon Power includes features like Power Shield, TRIM support, DEVSLP, and the SP SMART Utility. Another detail worth mentioning is the countersunk jack, which ensures that the cable remains secure during shooting or recording sessions. No more worrying about accidental cable disconnections that could lead to data loss or interruptions.
The Cinema Pro PNV350's rectangular shape with straight edges not only adds to its sleek aesthetic but also serves a practical purpose. By utilizing less volume in camera bags, this portable SSD offers convenience and portability without sacrificing storage capacity. Now, professionals can carry their high-speed storage solution without the added bulk.

Under the hood, the Cinema Pro PNV350 houses cutting-edge flash technology in the form of 3D TLC, providing excellent reliability and endurance. With capacities available in 1TB and 2TB, professionals can store and access their vast libraries of work without worrying about running out of space.
When it comes to performance benchmarks, the Cinema Pro PNV350 doesn't disappoint. It boasts sequential read and write speeds of up to 2,000 MB/s, allowing for lightning-fast data transfers. Additionally, the SSD delivers impressive random 4K read and write speeds with a maximum of 200,000 IOPS, ensuring quick access to files, even with intensive workloads.
Silicon Power seemingly stands behind the quality and durability of the Cinema Pro PNV350, as it is offering a generous three-year warranty and guaranteed TBW (Total Bytes Written) within that period. This warranty should provide peace of mind, allowing professionals to focus on their creative work without worrying about the integrity of their storage solution.
As is typical with Silicon Power, the company has not yet revealed pricing or availability for this new product. In other words, we do not yet know how much the Cinema Pro PNV350 USB-C SSD will cost or when it can be purchased. With all of that said, it should hopefully be available here very soon.
Please note: Some of the above links may be affiliate links, meaning we, or our writers, may receive payment if you purchase one of these items (or other items) after clicking on them.