Google Chrome to warn users about problematic extensions

Google Chrome 117, the next major version of Google's dominant web browser, will inform users if an installed extension is no longer available on the Chrome Web Store.
Browser extensions may be removed from the official Chrome Store for extensions for a number of reasons: extension developers may pull them from the Store, Google may remove them because of malware or policy violations.
Extensions do not usually get disabled or removed from user devices. Malicious extensions do get disabled automatically, but the same is not true for extensions that violate policies or have been removed by their developers.
Starting in Google Chrome 117, users are alerted when an extension is no longer available on the Chrome Web Store. Google limits the alerts to the three mentioned cases at this time.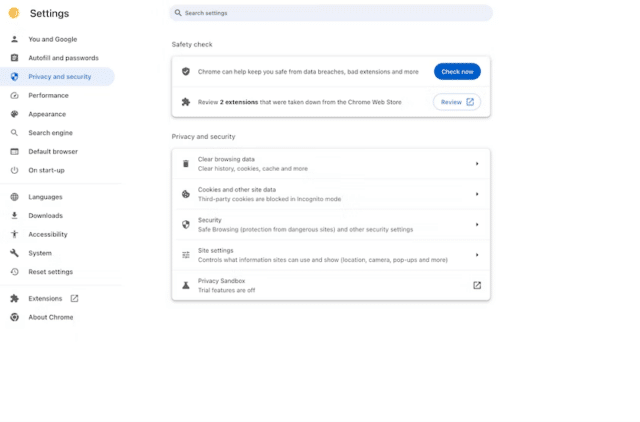 Google notes that it has "designed this change to keep the ecosystem safe for users while limiting the chances that this will impact genuine extensions".
Users may see the alerts under Privacy and security in the Chrome settings or when they open the Extensions management page in the browser. There, they will be informed if one or more installed extensions are no longer available on the Chrome Web Store. A click on the review button leads to another page with details.
Google reveals the reason for the removal on the page, including the nerve-wracking "this extension contains malware" alert.
Chrome users may remove the extensions one-by-one, or all together. They may also keep the extensions, although that is not recommended if an extension is flagged as being malicious.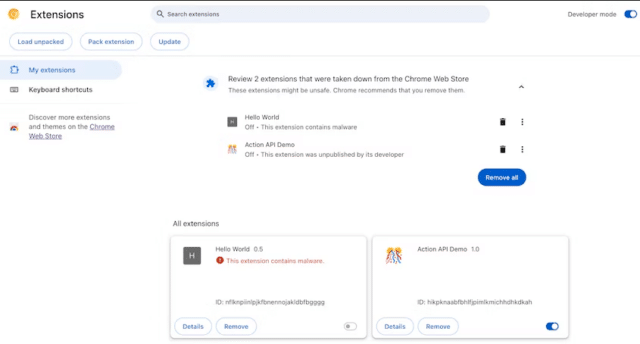 It may happen that issues do get resolved. An extension or related data may be modified by the developer if a policy violation has been detected. Extensions may get republished then on the Chrome Web Store and Google says that this will remove the alert.
Chrome users who run version 116 of the browser may enable the feature already.
Load chrome://flags/#safety-check-extensions in the browser's address bar.
Set the status of the experimental flag to Enabled.
Restart Google Chrome.
The new functionality should be available now in the browser. Setting the status of the flag to Default resets it again.
Closing Words
The upcoming change increases the transparency of extension removals from Google's web store for Chrome. The browser does not display alerts, e.g., through the extension icon in the main toolbar, which would improve visibility further.