Samsung G95NC 57-inch Odyssey Neo G9 is first dual UHD gaming monitor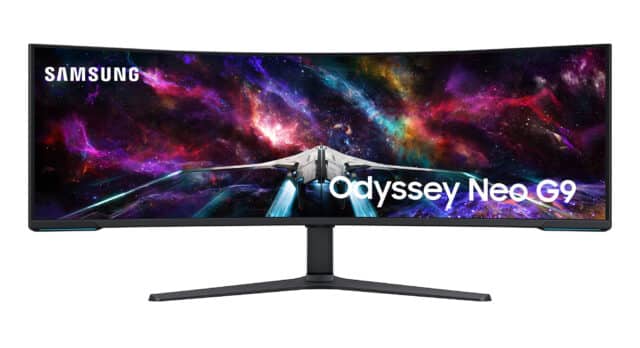 Samsung is once again setting the standard in gaming display technology with the 57-inch Odyssey Neo G9. Premiered at Gamescom 2023, this monitor will be available here in October for $2,499.99, ushering in a new era for gaming experiences.
The Odyssey Neo G9 57" (G95NC), boasts the world's first Dual Ultra-High-Definition (DUHD) screen. This innovation was deserving of the Best of Innovation Award at CES 2023. The monitor's wide curvature effectively mirrors two 32" UHD monitors, encapsulating gamers in an unprecedented immersive experience.
James Fishler, Senior VP at Samsung Electronics America, emphasized Samsung's commitment to continually redefine gaming monitor capabilities. He said, "We're offering more screen choices than ever, ensuring gamers can curate their perfect setup, replete with immersive and unparalleled picture quality."
Its visual prowess is further accentuated by Samsung's Quantum Matrix Technology, using Quantum Mini LED lighting to create sharper contrasts and reduce blooming. Coupled with VESA Display HDR 1000, it produces vivid and lifelike imagery, with HDR content that leaps off the screen.
Gamers are not only guaranteed stunning visuals but also a seamless performance. The Odyssey Neo G9 offers a 240Hz refresh rate and 1ms GTG response time, ensuring blur-free, swift gameplay. AMD FreeSync Premium Pro further enhances the gaming experience by offering a stable, stutter-free picture.
A standout feature? The inclusion of VESA-certified DisplayPort 2.1. Scott Herkelman, SVP and GM at AMD, lauds Samsung's initiative, stating that it "opens new doors for gamers" with higher speeds and refresh rates, setting the stage for the most vivid and immersive gaming experiences yet.
With the Odyssey Neo G9 57", there's no longer a need for a multi-monitor setup. Gamers can benefit from a decluttered workspace and utilize features like Picture-in-Picture and Auto Source Switch+ for a versatile gaming experience. To top it off, the monitor's ergonomic design, coupled with Core Lighting+, ensures it seamlessly fits any gaming environment.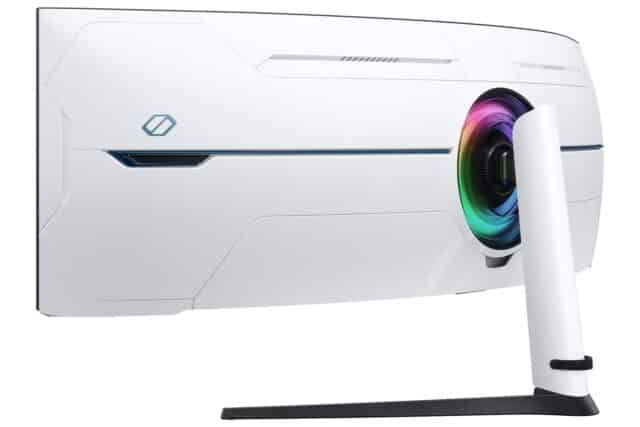 As an added treat, Samsung's Odyssey Twitch channel is hosting 'Odyssey Evolves' in celebration of the monitor's launch. Gamers can witness top streamers in action and even stand a chance to win a $10,000 gaming setup featuring the Odyssey Neo G9.
Specifications Snapshot:
Display: 57-inch, 32:9 ratio Dual UHD (7,680 x 2,160) with Quantum Mini LED
HDR: VESA DisplayHDR 1000 / HDR 10+ Gaming
Performance: 240 Hz refresh rate, 1ms (GtG) response time
Connectivity: 1 DP (2.1), 3 HDMI (2.1), USB Hub
Design: Sleek black/white with CoreSync and Core Lighting+
Samsung's Odyssey Neo G9 57" truly represents a quantum leap in gaming monitor technology, setting the pace for what the future holds. With this release, the future of gaming looks brighter, wider, and unmistakably more immersive.
Please note: Some of the above links may be affiliate links, meaning we, or our writers, may receive payment if you purchase one of these items (or other items) after clicking on them.