TEAMGROUP unveils high-clock rate T-FORCE XTREEM DDR5 memory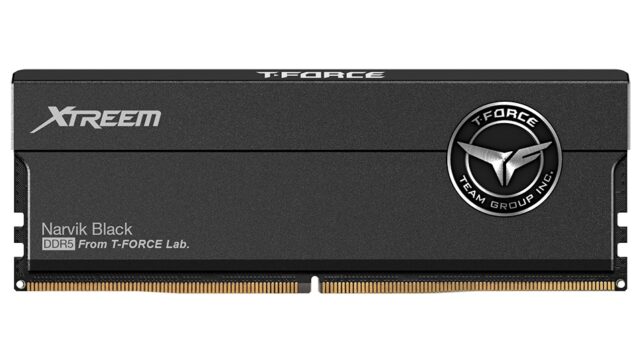 TEAMGROUP is stepping up its game by utilizing the expert skills of its own T-FORCE LAB to deliver the latest T-FORCE XTREEM DDR5 memory. By using a special testing and verification technology, TEAMGROUP has pushed the DDR5 memory speed higher, creating ultra fast memory modules aimed at gamers.
The T-FORCE XTREEM DDR5 memory shines when it comes to overclocking. The RAM doesn't just offer faster performance, but also focuses on keeping things cool. With 2mm-thick metal fin heatsinks and a special kind of silicone that helps transfer heat, it ensures the memory stays cool for better performance. The surface is treated to resist acid, corrosion, and rust, which is not only practical but also gives gamers peace of mind.
The design of the XTREEM DDR5 is also something to talk about. It has a two-piece heat spreader made of thick metal, treated to have a rough texture like basalt, and colored matte black like a black sand beach. So, while enjoying the faster gaming performance with XTREEM DDR5, users can also appreciate its sleek look.
The T-FORCE XTREEM DDR5 gaming memory will be available in speeds of 7600MT/s, 8000MT/s, and 8200MT/s, and will support on-die ECC, which helps correct errors. Gamers in North America can look forward to getting their hands on these memory modules on Amazon and Newegg by the end of October. Pricing is not yet revealed.
Please note: Some of the above links may be affiliate links, meaning we, or our writers, may receive payment if you purchase one of these items (or other items) after clicking on them.