5 things I learned during San Diego Comic-Con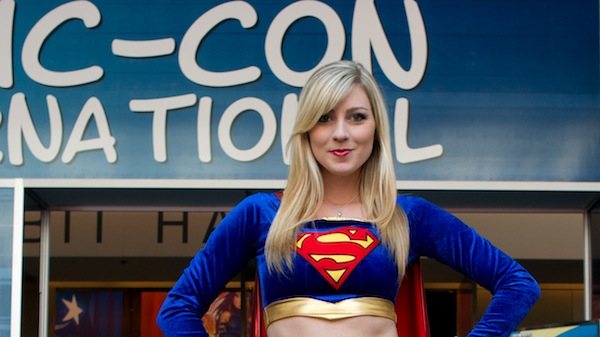 I spent Thursday through Sunday (July 22-25) covering one of the best geek events anywhere -- best because the appeal is so broad. At Comic-Con, everyone is a geek, or someone else if they cosplay (costume play). The event has changed as big Hollywood media exercises greater influence. Comic-Con is no longer just about comics, anime or manga. Last year, for example, director James Cameron debuted a long segment from the then upcoming movie "Avatar."
Like previous years, I focused my reporting not on the star-studded panels but the attendees and exhibitors. From my viewpoint, the real stars aren't the Hollywood actors, directors or producers but the artists and attendees, many of whom dress up as someone else. For one day, or as many as four, they <!external href="http://www.oddlytogether.com/post/851478665/the-roles-we-play">assume other personas or revel in the roles their favorite heroes play.
The on-the-ground perspective is startlingly different from some of what people see on television. On Saturday night, while editing photos, I put on <!external href="http://g4tv.com/">G4 TV's Comic-Con coverage. I was aghast trying to figure out what convention G4 attended, because the coverage was so far removed from the event I experienced. G4 spent too much time on Hollywood and other well-known personalities.
Unlike previous years, I spent more time documenting the convention with photos than video. The pics here are from my <!external href="http://www.flickr.com/photos/joewilcox/sets/72157624437844325/with/4829859278/">San Diego Comic-Con 2010 Flickr set. I mostly used the <!external href="http://en.leica-camera.com/photography/compact_cameras/x1/">Leica X1, but captured some closeups with iPhone 4. The X1 is my main digicam, offering dSLR-size sensor in a compact body with excellent lens. Low-light performance is so good that I didn't need a flash. The combination of sensor, <!external href="http://en.wikipedia.org/wiki/Prime_lens">prime lens and low-light performance -- in a light camera body -- made for some great photo-ops. Adobe Photoshop Lightroom 3 gave the pics that extra punch, particularly the remarkably good noise-reduction feature. The X1 shoots in Adobe's DNG format, which surely is a benefit. For editing, I much prefer LR3 to Apple Aperture 3, although A3 has superior workflow features.
<!image id=5165 center>
Comic-Con attendees take the Rock Band 3 stage
With that long introduction, I present five things I learned from San Diego Comic-Con 2010, in no order of importance:
1. iPad will be a dominant publishing platform. Apple's tablet was seemingly everywhere at Comic-Con. Many publishers used iPad to show off their comics and graphic novels, and many of them are either now available for iPad or soon will be."<!external href="http://www.killshakespeare.com/">Kill Shakespeare" artist Andy Belanger told me that comics look better on iPad than in print. I must agree.
Many comics publishers favor iPad App Store over iBookstore. For example, IDW, which publishes "Kill Shakespeare," has a separate application that acts like a store within a store. IDW controls the purchasing experience through its application rather than solely relying on the broader App Store.
If publishers believe in a format/platform and commit to it, fans will follow. That said, publisher commitment is no assurance a format/platform will succeed (look what happened to Hollywood studios supporting HD-DVD). But no format/platform can succeed without content. Based on my conversations with publishers, I expect iPad to have huge presence during Comic-Con 2011.
<!image id=5166 center>
2. Apple's iOS and Google's Android are the future of mobile. Comic-Con can be divided into the first three days -- the geek and media event -- and Day 4, when families fill the San Diego Convention Center. During the first three days I saw a surprising number of Androids and iPhone 4s. Most Android phones were HTC-made -- and there were many models -- although I saw more Verizon phones than any other but not in overwhelming numbers.
I expected to see lots of iPhones -- and their numbers were greater than observed Droids -- but I was surprised by how many people had iPhone 4s. <!external href="http://www.betanews.com/joewilcox/article/Apple-Q3-2010-by-the-numbers-Record-quarterly-revenue-tops-157-billion/1279654686">Apple can't ship enough iPhone 4s to meet demand, so I expected to see fewer of them. Perhaps the Apple handset sightings reflect something about the Comic-Con attendee and exhibitor demographic, which I believe foreshadows future mass-market adoption trends.
Commerce is nearly always a good indicator about a newer platform's future success. I observed <!external href="http://www.nemu-nemu.com/">Nemu-Nemu and Rising Sun Creations using iPhone 4s to process credit-card transactions. Nemu-Nemu relied on a card reader attached to the smartphone's headphone jack to process credit-card purchases. Rising Sun Creations, a San Diego-based anime-manga shop, manually entered credit-card information onto the touchscreen.
<!image id=5167 center>
Many comics or graphic novels are coming to iPad
By the way, Comic-Con has an iPhone app.
As for Day 4, family day, I observed more varieties of smartphones. However, I saw seemingly endless numbers of BlackBerries, mostly among teens.
3. Storytelling still matters. While Hollywood, and its seeming obsession with CGI and 3D, has slowly taken over Comic-Con, it's not what the people attending and participating in the event mainly want. The stories and characters -- the personas -- matter more. Even among the star-studded panels, the stories and their characters dominated the on-stage discussions or audience questions. Many how-to sessions focused on techniques for telling better stories.
Comic book, graphic novel and game publishers clearly understand the importance of good storytelling -- that's a major reason why Comic-Con is still their show. I'll ask a question: Does 3D make the story better? I'd answer "No." What about you?
<!image id=5168 center>
Garrett Wang, who played Harry Kim on "Star Trek: Voyager"
4. The Canon-Nikon dSLR wars are over. Canon wins, if Comic-Con 2010 is any indication. I observed significantly more  attendees, exhibitors and journalists using Canon dSLRs than Nikons. Significantly means 20 or 30 to 1. I pay close attention to tech gear during tradeshows, and without preconception. Granted, my observation is no scientific study, but the number of Canon dSLRs was simply stunning. Among compact and semi-compact cameras, there was more diversity among manufacturers, with Canon, Nikon and Olympus standing out.
5. Microsoft needs to Kinect more with gamers. In four days of walking the Comic-Con exhibit hall, I struggled to find the Xbox booth. Yes, Microsoft had a booth and employees were present at some panels, but there wasn't lots of buzz at the show about Kinect -- and there should have been. Granted, Comic-Con isn't E3, but the San Diego convention will be one of the biggest North American entertainment tradeshows before Kinect launches for the holidays.
<!image id=5169 center>
Gameplay at the Nintendo booth. Where's Xbox?
I expected much more from Microsoft given the venue and timing. Sure, the company announced a new Halo Xbox bundle but c`mon, it's Kinect that's going to connect with gamers. Microsoft should take every opportunity, regardless of expense, to put its new game controller in front of consumers. Word of mouth is priceless marketing, especially during these social media crazed days.
[All photos by Joe Wilcox]