Is connecting to WiFi from Windows really as hard as MacDonalds claims?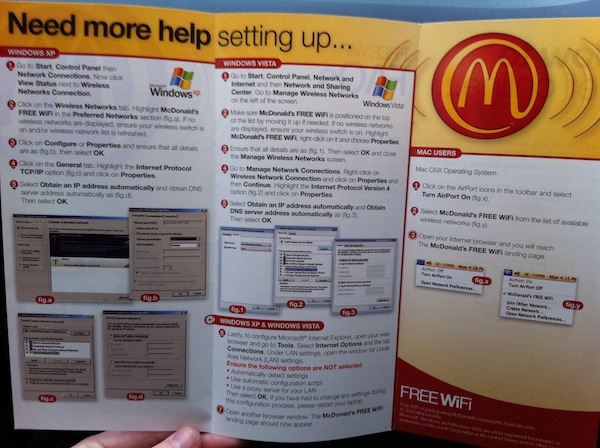 OK, Windows users, here's your chance to set the record straight. If you dare. The Mac Fanclub of bloggers is gaga today over the image you see above. It's supposedly McDonalds Australia's instructions for connecting Windows PCs and Macs to WiFi. The Windows setup is a whole lot more complicated than for Macs. What should you expect from MacDonalds?
I haven't roamed on Windows for awhile, but on my last trip I don't recall connecting to encrypted or open hotspots being anywhere as difficult as these instructions indicate. It's three easy steps for the Mac, and eight fairly complicated ones for Windows XP or Vista.
But wait? Where are Windows 7 instructions? What? No one in Australia uses Microsoft's newest OS -- shipped nearly 2 years ago and 400 million licenses sold to date? Say it ain't so, Joe!
So are you going to let this lie? Please answer the MacDonalds -- eh, McDonalds -- instructions in comments. Also, if you're Down Under, give everyone a little perspective on the state of Windows 7? Perhaps Win7 instructions are on the backside? If by such chance they are and turn out to be as short or -- gasp -- shorter than for Mac, send us a pic, please.
Larger image from TwitPic (from Mac Prices Australia).