Motorola's Android sales are kaput...no big deal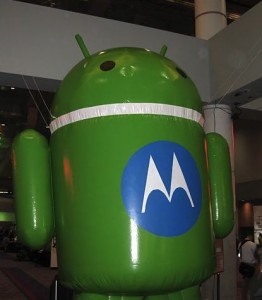 According to market research company NPD Group, the sale of Android-based handsets grew 29% in the second quarter of this year, bringing the operating system to a 52% share of the US market. Contributing to this growth were South Korean manufacturers Samsung and LG, which both experienced "substantial gains."
But while Samsung and LG were improving their Android sales, Motorola Mobility fell dramatically.
A total of 22% of all Android-powered phones that sold in the second quarter were made by Motorola, a significant share. But this is exactly half of the percentage Motorola held last year. During the course of the year, between Q2 2010 and Q2 2011, Motorola lost a quarter of its overall handset market share as well, down to 9% from 12%.
Still, NPD's news of depressed handset sales have had very little impact on Motorola Mobility's stock price, which is still trading high on the news that the company is going to be acquired by Google.
Handset sales, it would appear, are only a minor concern right now when it comes to Motorola and its future parent company.
"Google's acquisition of Motorola shifts the balance of power in the handset-patent conflict between Google and its operating system competitors," NPD executive director of industry analysis Ross Rubin said in a statement today. "Android's momentum has made for a large pie that is attractive to Motorola's Android rivals, even if they must compete with their operating system developer."
Indeed, when Google acquires Motorola, it will pick up an estimated 17,000 patents, and a Bloomberg report on Monday picked out a core of eighteen of these patents that could prove pivotal in protecting Google from infringement suits from Android rivals Microsoft, Research in Motion, and Apple.