Do a good deed today, uninstall Windows XP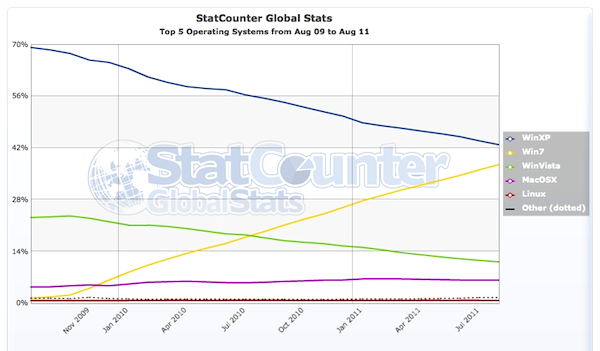 Let's compare the major computer operating systems at the moment. We have Windows XP, Windows Vista and Windows 7. We have various Linux distributions, and we have Mac OS X.
Of these, obviously Windows XP has the weakest security, by far, and Windows XP has the biggest marketshare, too. Globally close to half of all computers still run XP.
And today, Windows XP is ten years old.
Ten years is an eternity in this business. So it's no wonder XP's security architecture is not up to date.
As a result, attackers right now would be stupid to spend their time and money targetting any other operating system. That makes no sense as long as they have this huge, easy low hanging fruit.
Obviously XP is going away. As we can see from this chart, Windows 7 will pass XP in the near future and will become the most common operating system.
And when XP's marketshare drops low enough, attackers need to start looking around. Some will focus on Windows 7. Others will look at OS X, Android, iOS and so on.
The attackers have never had it so good. The easiest target is also the most common target. This can't change quick enough.
Do a good deed today. Uninstall an XP.
Mikko Hypponen is the Chief Research Officer for F-Secure and is based in Finland. He has worked with computer security for more than 20 years. Please follow him on Twitter.