56% of new smartphone buyers choose Android, only 28% iPhone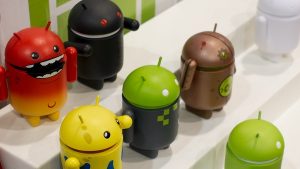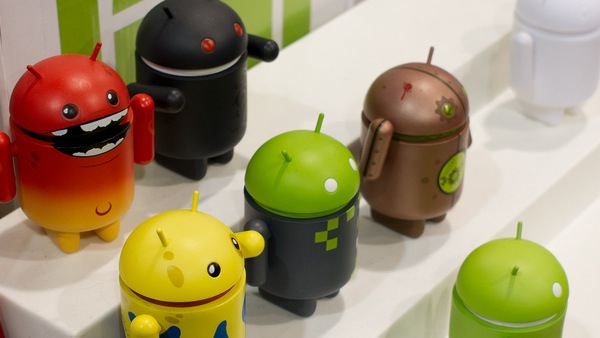 Well, so much for Apple Fanclub antics a few months ago, when a wave of blog and news posts asserted that Verizon iPhone's launch had stalled Android sales and iPhone 5 would beat them back. It's more wishful thinking published as fact, that has spread yet another iPhone urban legend across the web. The truth is far different. Androids continue to gain massively against iPhone, according to data Nielsen released today. This isn't abnormality but a trend Nielsen has tracked for more than a year.
Among new smartphone buyers -- "acquirers" in Nielsen perlance -- 56 percent chose an Android handset in August. Among all phone buyers: 43 percent. iPhone was 28 percent for both categories. "The preferences of these so-called recent acquirers are important as they are often a leading indicator of where the market is going", Don Kellogg, director of Telecom Research & Insights, explains in a blog post.
By that reckoning, most of the market is going Android, which market share also grows unabated, while iPhone is consistently flat. In May, three months after the Verizon iPhone launched, iPhone share was 27 percent, compared to 38 percent for Android. Nielsen measures the data based on smartphone operating systems among US handset subscribers.
"But those figures could change quickly in the months to come", Kellogg asserts. "Every time Apple launches a new iPhone or makes it available on a new wireless carrier, there is an increase in their sales". That's certainly true, but an increase in sales doesn't necessarily correspond to a bump in market share or massive change in overall new buyer purchases.
During second quarter 2010, iPhone subscriber share among new acquirers was 23 percent -- down from 34 percent two quarters earlier, according to Nielsen. During the same time frame, Android share rose from 6 percent to 27 percent. iPhone 4 launched late in Q2 2010. At the end of August 2010, after more than two full months of iPhone 4 sales, iPhone share among new buyers had risen by only 2 points -- to 25 percent. By comparison, Android was 32 percent, so up 9 points.
Market share among all US phone subscribers tells a similar story. At the end of Q2 2010, iPhone share among all phone subscribers was 28 percent, same as the end of August 2011, up just 1 percent from two quarters earlier. During the same time frame, Android share rose from 6 percent to 13 percent. A year later, it's the aforementioned 43 percent. At the end of August 2010, iPhone share was still 28 percent, while Android's had risen 6 points to 19 percent.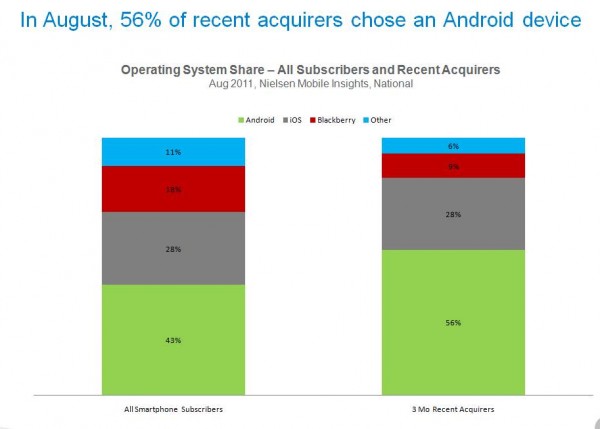 The point: While iPhone is a hot-selling smartphone, it's not keeping pace with the rapidly growing US smartphone market. It's overall market share is flat and that among new buyers is nowhere near the hype. Among the reasons iPhone is running in place: The smartphone market is growing faster than Americans are buying iPhones. At the end of second quarter 2010, 25 percent of US cell phone subscribers had smartphones. It was 43 percent at the end of August and 58 percent among new buyers.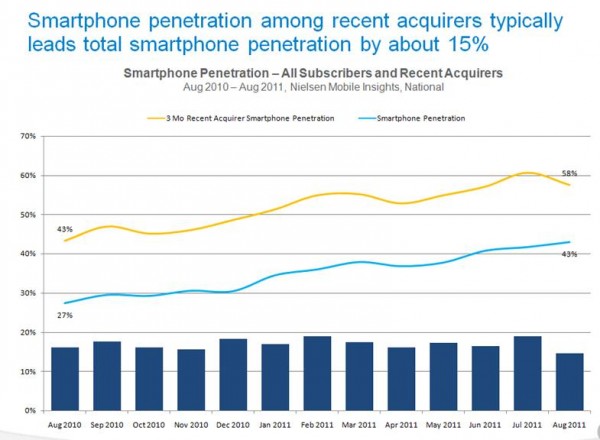 I call all of thus out for two reasons: 1) Kelloggs statement is misleading about iPhone after the next-gen model ships, particularly in context of Nielsen's own data. 2) Numerous reports from the Apple Fanclub of bloggers and journalists are claiming that iPhone's current market position is merely a calm before the storm, as buyers wait for the new model. Neither Nielsen's data nor that from Apple quarterly statements or other analyst firms support such supposition. In the United States, Apple share has been largely flat since second quarter 2010 -- and that despite the hugely successful iPhone 4 launch in June 2010 and its coming to Verizon in February 2011.
You'll read lots of rhetoric and justification today about iPhone's position to Android and how the tide will soon turn. That urban legend is at least a year old now, and it still hasn't proved to be true. Fourteen months of Nielsen's data is consistent on two points: iPhone isn't gaining share among US cell phone subscribers, while Android grows leaps and bounds, particularly among new buyers.